The Navy accepted delivery of the newest Spearhead-class Expeditionary Fast Transport ship, the future USNS Newport (T-EPF-12), on Sept. 2.
The Newport previously finished integrated sea trials, combining builder's and acceptance trials, in July. The ship was built by Austal USA at its shipyard in Mobile, Ala. (Defense Daily, August 3).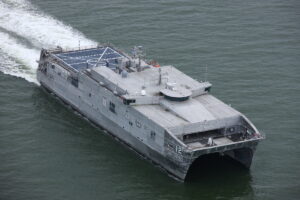 EPF-12 was the second ship of the class to undergo that kind of integrated trial.
EPFs are non-combat ships owned and operated by Military Sealift Command that aim to operate in shallow-draft ports and waterways to increase flexibility for troop, vehicle and equipment transport. They can also operate humanitarian assistance, special operations support, and logistics support missions. They have a flight deck, can interface with roll-on/roll-off facilities, and can carry up to a fully combat-loaded Abrams main battle tank.
EPFs can carry up to 600 short tons to a distance of 1,200 nautical miles at an average speed of 35 knots.
"Today's delivery marks the 12th EPF delivered to the Navy, and I'm proud to be a part of delivering this highly-capable ship that can successfully meet a wide range of missions," Tim Roberts, Strategic and Theater Sealift program manager at Program Executive Office Ships, said in a statement.
Austal is also currently in production on the future USNS Apalachicola (EPF-13) and is under contract to build the future USNS Cody (EPF-14).