The Navy's latest Expeditionary Fast Transport ship, the future USNS Newport (EPF-12), finished integrated sea trials on July 30, the service said Monday.
Integrated trials combine both the builder's and acceptance trials. The Navy said this allows the shipyard, Austal USA, to demonstrate operational capability and mission readiness of ship systems to the Navy's Board of Inspection and Survey.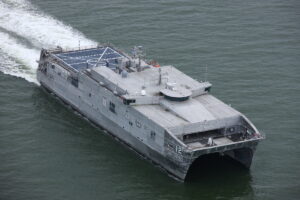 In these trials, Austal conducted comprehensive tests to demonstrate the performance of all major ship systems. The shipyard is in Mobile, Ala., with trials taking the ship out to the Gulf of Mexico.
The Navy noted EPF-12 is the second ship of its class to undergo the integrated trials. The first was the USNS Puerto Rico (EPF-11), which underwent the tests last year (Defense Daily, Aug. 23, 2019).
The service argued since it is the second EPF to undergo these integrated tests, that signifies "the stability and maturity of the shipbuilding program."
"Achieving this milestone is a testament to the hard work and dedication of the shipbuilding team and our partners in industry. We are eager to press forward with delivering USNS Newport to the fleet this year and to enhance the operational flexibility available to our combatant commanders," Tim Roberts, Strategic and Theater Sealift program manager within Program Executive Office Ships, said in a statement.
EPF-12 is set to deliver to the Navy later this year while Austal has started construction of the future USNS Apalachicola (EPF-13) and is under contract to build the future USNS Cody (EPF-14).
EPFs are non-combatant transport ships used to operate in shallow-draft ports and waterways to increase flexibility for troop, vehicle, and equipment transport; humanitarian assistance; special operations support; and logistics support. The ships have a flight deck and can interface with roll-on/roll-off facilities and carry a fully combat-loaded Abrams main battle tank.
EPFs can transport up to 600 short tons 1,200 nautical miles at an average speed of 35 knots.