The Army Secretary on Friday acknowledged the disparity in flight hours for two of the main offerings vying for the Future Long Range Assault Aircraft (FLRAA) program, reiterating that the competition will move forward in line with the service's continued modernization push. 
Ryan McCarthy's comments to reporters following a discussion at the Brookings Institution come as the FLRAA program, designed to replace the Army's UH-60 Black Hawk helicopters, is headed toward an early March downselect decision for the competitive demonstration phase.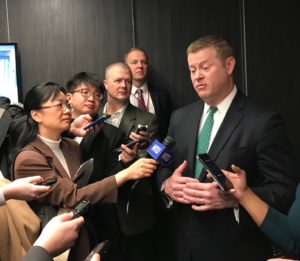 "We are trying to encourage business to invest and move quickly because time is the greatest commodity in life. Time is not something we can get back. Time is not something we can negotiate. So it is important," McCarthy said. "We've moved billions of dollars. The world is incredibly complex. We don't have the time or luxury to wait for people. They've got to keep pace with us if they want to do business with us."
The Army recently concluded the Joint Multi-Role Technology Demonstrator program, intended to inform final FLRAA requirements, which featured Bell's [TXT] V-280 tiltrotor and a Boeing [BA]-Sikorsky [LMT] team's SB-1 Defiant helicopter as the two participants.
The V-280 has flown over 160 hours over the last two years, while the SB-1 Defiant has significantly fewer flight hours since testing first began last spring. 
"Now, because one competitor has more [flight] hours versus another, we're going to evaluate the design and how all of them have flown. Hours on a prototype is one variable in a massive equation when making a decision," McCarthy said. "That's one aspect of this competition. By no means does that declare a victor."
Earlier this week, McCarthy and several Army officials were in attendance at the latest V-280 flight demonstration, where Bell also announced that the tiltrotor aircraft had completed a successful autonomous flight test in December (Defense Daily, Jan. 9). 
"It's very encouraging to us to see these demonstrators put north of 160 hours on them because, to quote Gen. [James] McConville, the Army chief, we're going to fly it before we buy it," McCarthy told reporters following the Wednesday flight demo at a Bell facility in Arlington, Texas. "We need to see progress. We're not going to buy a billion dollar PowerPoint slide."
Brig. Gen. Thomas Todd, program executive officer for aviation, was also on hand at the V-280 demonstration and reiterated that the Army can no longer wait on industry before moving ahead with major program decisions and will look to retain the current accelerated schedule. 
"In the past, we waited until everyone was in the same place, and we don't want to do that. What we want to do is encourage industry to move as fast as possible with the resources that we have, the precious resources of the nation as well as the resources that you have," Todd said. "There will always be a disparity between where particular vendors are. That does not mean they're not ready to compete. That does not mean there's not readily available test data."