Acting Navy Secretary Thomas Modly convened a "Make Ford Ready" summit on Jan. 9 to help get the USS Gerald R. Ford (CVN-78) transitioned to fleet operations as fast as possible.
Modly first called for the summit in December in a weekly memo, stressing that the Navy will make the newest aircraft carrier ready and work as "one team, relentlessly focused" to achieve tasks under rigid timelines.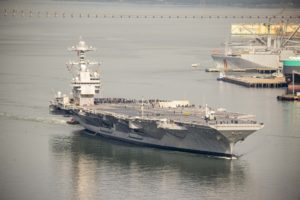 "While this is an 'all hands on deck' priority that can only be accomplished through the dedicated efforts of the Ford team, it will also require broad, department-wide encouragement, enthusiasm, and support for our shipmates and industry partners who will be heads down on the tasks at hand," Modly said upon the opening of the summit.
"I'm extremely bullish on Ford— and our Navy should be too. The Ford-class carrier is the future…While good progress has been made over the past several months, together we must keep Ford headed in the right direction – and get her where she needs to be – operating forward at sea to reassure allies, deter adversaries, and protect our national interests around the world," Chief of Naval Operations Adm. Mike Gilday added.
At the summit, Rear Adm. Roy Kelley, Commander of Naval Air Forces Atlantic (CNAL), and Rear Adm. James Downey, Program Executive officer for Aircraft Carriers, spoke before over 50 stakeholders. They briefed on progress to date and the path toward reaching full ship functionality, crew training and certification, ensuring ship material readiness, and exercising the full spectrum of air wing operations.
The Navy said this summit "offered a unique opportunity to ensure alignment" among over a dozen military and shipbuilding stakeholders to meet DoD strategic objectives and program system integration requirements.
The Ford is currently operating in an 18-month Post-Delivery Test and Trials (PDT&T) period, set to operate through mid-2021. During this period, the crew is certifying fuel systems, conducting aircraft compatibility testing, conducting flight deck exercises, and testing on-board combat systems.
The Ford has experienced numerous delays due in part to new technology taking more time to test. In particular, the advanced weapons elevators have been delayed significantly.
In October, former Navy Secretary Richard Spencer partially blamed contractor Huntington Ingalls Industries [HII] for the elevator delays, but said progress has been much improved since a combined Navy-HII "tiger team" was sent to the shipyard (Defense Daily, Oct. 25, 2019).
Assistant Secretary of the Navy for Research, Development and Acquisition James Geurts in October then said all of the delayed elevators will be finished and operational by the time the PDT&T period is finished (Defense Daily, Oct. 29, 2019).