As the military works to build the U.S. Space Force from the ground up, its goal is to be lean and equipped for the speed of warfighting in the coming century, said Maj. Gen. John Shaw, commander of Space Operations Command (SPOC), U.S. Space Force, and commander of the Combined Force Space Component Command (CFSCC), U.S. Space Command. 
"It can't be ponderous. It can't be bureaucratic," Shaw said Friday at a Mitchell Institute event. "It has to be lean if it's going to operate at the speed of war in the 22nd century. And that's what we are trying to build from the ground up, and make part of the Space Force culture from the very beginning."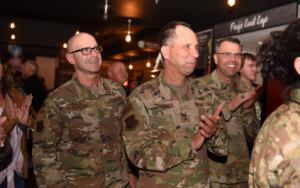 Shaw did not offer specific information about how Space Force will be organized, but stressed the opportunity to create a new service "from scratch." He cited the former 14th Air Force's Combat Development Division (CDD) — in which embeds in operation units look at capabilities and quickly plug them into warfighting — as an example of leveraging tech at the speed of war. 
Last month, the 14th Air Force – previously the Air Force component to U.S. Strategic Command for space operations – was redesignated as SPOC under Space Force. 
Shaw also said he expects to see the Department of Defense give Congress legislation in regards to incorporating elements of the Army and Navy into Space Force. 
Shaw would not comment on the role that Space Force played in the early warning detection that allowed U.S. forces to seek protection before a series of ballistic missiles struck two Iraqi bases on Jan. 7.
"Space is integrated in everything that we do, warfighting operations around the globe," he said.
In addition, as commander of the CFSCC, Shaw said his two "prime interrogatives" are how to drive integration into domains across the full spectrum of warfighting, and how to pursue strength and partnerships with allies and partners, including commercial partners. 
In particular, Shaw said he expects to see greater partnership with Japan in terms of putting a space domain awareness payload on its Quasi-Zenith Satellite System (QZSS) in 2020, and collaboration with a deep space radar system that it is developing. 
This article was originally published in our sister publication Via Satellite.