The Navy's top acquisition official said all the of the delayed advanced weapons elevators (AWEs) on the USS Gerald R. Ford (CVN-78) will be finished and operational by the time an 18-month post-deliver test and trials (PDT&T) period finishes.
Assistant Secretary of the Navy for Research, Development and Acquisition James Geurts told media during a roundtable Oct. 28 that as of Oct. 27, when he and Secretary of the Navy Richard Spencer visited the Ford, it was about 50 percent through its sea trials and is expected back to the naval base by the mid-week.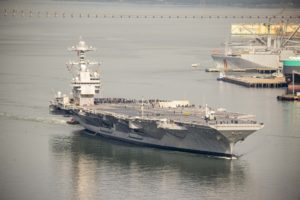 The carrier first went back to sea for sea trials after finishing its post-shakedown availability (PSA) repair and maintenance period on Oct. 25 (Defense Daily, Oct. 25)
After finishing these trials, it will undergo a nominal 18-month PDT&T period where the crew and air wing will get certified and get the ship ready for carrier strike group workups. Flight operations will start on CVN-78 in the next calendar year to recertify the flight deck, fuel systems and overall prepare for flight operations.
Geurts admitted there is carryover work on the long-delayed elevators, but he was sure they will be finished before the ship is deployed and the Navy-industry team have a better handle on them going forward.
"We do have a little carryover work and so we did work our way through elevators," with four turned over to the crew and seven left to finish installation and certification.
Geurts said the Navy has cycled the finished elevators over 200 times since the Ford started these trials. They are "operating fine at sea and all that but we'll continue to shake those systems out."
He noted shipbuilder and AWE builder Huntington Ingalls Industries [HII' has personnel on board during the trials to work on the seven remaining elevators "proving exactly how to do that while at sea & how to pre-stage equipment the right way."
Geurts said three of the lower elevators are in varying states of final construction and when he visited HII was testing one.
"So we're taking advantage of that and working as an integrated team out there."
Geurts underscored the Navy-HII team's output over the last 90-100 days "has been on a much better path than we were previously and that's why I am cautiously optimistic on both progress to get the rest of the Ford ones done and then be able to accelerate through 79 through 81."
Last week, Spencer said the Navy started making more progress on the AWEs once a service team took over the project but also strongly criticized HII management, (Defense Daily, Oct. 25).
Geurts said the Navy and HII have had to work together "to get the right team focused on elevators. The Navy put a dedicated team down there, HII has recognized we've got to get both build, grow and sustain a dedicated workforce to get after those and be a little bit bolder in our action."
He acknowledged frustration on the speed to get around the problems initially, but said he is focusing on how to take the last 90 days of good work "and make that the way we do all business. Create the environment where real progress occurs when you've got the ships force, you've got the Navy program team, and you've got the shipbuilder all working together, a common mission, everybody bringing their talent to the table. I've seen that over the past 90 days and that's really what we want to press ahead with."
Geurts explained several risk reduction measures the Navy and HII have undertaken to speed up the elevator work.
Some changes are "design tweaks for producibility." Previously, the AWE door hinges were welded on every time so when you reset the door they had to unweld them and then reposition them.
"It actually was one of the submarine experts came over from HII and looked at it and now kind of moving to movable fittings so you can kind of get the fitting right and then do the welds so you can adjust it easier."
The Navy has also built a full digital twin of the AWE software. "That's already up and running, so we can run the software and get the software stable and test it. And then longer term we're building a land-based test site up in Philly."
Earlier this year, the Navy said it is building a land-based test site for the AWE in Philadelphia, Pa., to test and train crews and mechanics as well as try new software (Defense Daily, March 6).
Geurts said while Ford is going back to port soon it will be back at sea "in the not too distant future."