The State Department has approved a $4.5 billion deal with Japan to upgrade up to 98 of the country's F-15J aircraft to the Japanese Super Interceptor (JSI) configuration.
The Defense Security Cooperation Agency notified Congress on Tuesday of the Foreign Military Sale.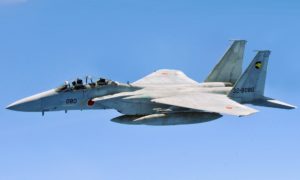 Upgrading the F-15J fleet to the new JSI configuration would include the sale of 103 APG-82(v)1 Active Electronically Scanned Array radars, 116 Advanced Display Core Processor II mission system computers and 101 ALQ-239 Digital Electronic Warfare Systems.
"This proposed sale will provide Japan a critical air defense capability to assist in defending the Japanese homeland and U.S. personnel stationed there. Modernized F-15J assets will better enable Japan to respond to airborne threats and defend its airspace," DSCA officials said in a statement.
Japan has also requested Joint Mission Planning Systems, Selective Availability Anti-spoofing Modules (SAASM) and ARC-210 radios in the deal.
The F-15J is Japan's version of Boeing's [BA] F-15 Eagle fighter aircraft, and is manufactured by Mitsubishi under a licensing agreement.