Leonardo DRS and its partner Israel's Rafael have completed deliveries of the Trophy Active Protection System (APS) program for Army Abrams tanks, the companies said Wednesday.
The Army has awarded over $200 million to Leonardo DRS and Rafael, for the Trophy APS program, which looks to outfit Abrams tanks with a mature, ready-for-deployment anti-tank weapon capability.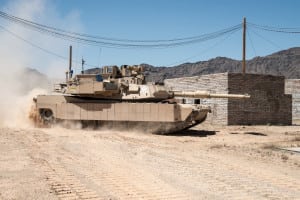 "It has been an honor to deliver these advanced defensive protection systems for our front-line tanks to give our warfighters a needed layer of survivability against real and emerging battlefield threats," Aaron Hankins, senior vice president of Leonardo DRS' Land Systems business, said in a statement. "Together with our Rafael partners, we worked tirelessly to ensure we met our customers' needs while delivering ahead of schedule, and we look forward to supporting them with APS in the future."
A company spokesman told Defense Daily the Army has received quantities sufficient to outfit four brigades of tanks with the anti-tank weapon countermeasure system.
Trophy APS deliveries for Army and Marine Corps tanks began in 2019, and Leonardo DRS remains under contract to support integration on further Abrams variants.
Leonardo DRS is also pursuing continued interest in an updated, lighter version of the system, called Trophy VPS, with a new characterization event set for mid-2021.
"We can't speak for the Army, but we feel our ongoing investments in enhancing and expanding Trophy's protection performance to stay ahead of rapidly evolving threats, while simultaneously reducing its space, weight and power demands, are very much aligned with the customer's desires in this area," the company spokesman said.
The company previously told Defense Daily that Trophy VPS, which is 40 percent lighter than the baseline system, could be aimed at platforms such as Bradleys, Strykers or the future Optionally Manned Fighting Vehicle (Defense Daily, Oct. 13).