The commander of U.S. Strategic Command said Tuesday the Pentagon must continue to replace the Minuteman III intercontinental ballistic missiles (ICBMs) with a next-generation system and it cannot undergo further life extension.
"Let me be very clear – you cannot life extend Minuteman III. It is getting past the point of it's not cost effective to life extend Minuteman III. You're quickly getting to the point [where] you can't do it at all," Adm. Charles Richard, commander of U.S. Strategic Command, told reporters during a Defense Writers Group.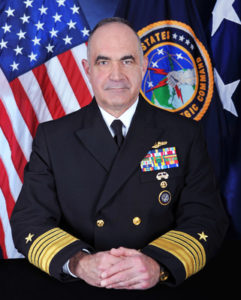 In September, the Air Force awarded Northrop Grumman [NOC] a $13 billion contract to build the next generation of ICBMs, called the Ground Based Strategic Deterrent (GBSD) (Defense Daily, Sept. 8).
Richard assailed the idea that the GBSD be cut or delayed, as called for by progressive and anti-war groups in a recent memo to President-elect Joe Biden's transition team.
"I don't understand, frankly, how someone in a think tank who actually doesn't have their hands on the missile looking at the parts, the cables, all of the pieces inside that – that thing is so old," Richard said.
"That thing is so old that in some cases, the drawings don't exist anymore or where we do have drawings, they're like six generations behind the industry standard. There's not only anybody that's not working that can understand them, they're not alive anymore. And so when the Air Force comes and says that, I have great confidence in what they're saying," he continued.
Richard also argued in favor of the advantages GBSD will bring over the existing Minuteman III.
"One of the biggest pieces is in its cyber resilience. We will replace a 60-year-old, basically a circuit switch system, with a modern, cyber defendable up to current standards command and control system. So just to pace the cyber threat alone, GBSD is a necessary step forward."
Richard also said the new missile will be "far more flexible and resilient against any number of other threats that are presented to it."
He noted they need to pace the current threat. But unlike during the Cold War, with the current great power competition, "this nation has never before had to face the prospect of two peer nuclear-capable adversaries who have to be deterred differently and actions done to deter one have an impact on the other."
"This is way more complicated than it used to be," and this is an example of how to address these changing threats, Richard added.
In October, House Armed Services Committee Chairman Adam Smith (D-Wash.) predicted if Biden won the election the administration would consider a nuclear force aimed more at minimum-deterrent need (Defense Daily, Oct. 29).
"China's philosophy has been very simple: we're going to build a reliable nuclear arsenal that is sufficient to inflict so much pain on any adversary that they will not dare pose an existential threat to us. I think that's a pretty sound approach. It's also a heck of a lot cheaper than imagining that you have to build enough weapons to win a nuclear conflict. And I'm confident that the Biden administration, if it comes, is going to feel this way," Smith said at the time during a webcast talk hosted by the Center of a New American Security.
Smith also said he thinks the current ICBM fleet is "driven as much by politics as it is by a policy necessity. There are certain states in the union that apparently are fond of being a nuclear target. And you know, it's part of their economy, it's what they do," Smith said at the time.