Democrats will gain control of the Senate following the results of Tuesday's Georgia run-off elections, with Sen. Jack Reed (D-R.I.) likely to serve as the next chair of the Senate Armed Services Committee (SASC).
The Senate is set to stand at 50 lawmakers caucusing with each party after Democrat Jon Ossoff beat out SASC member Sen. David Perdue (R-Ga.) while Democrat Rev. Raphael Warnock defeated Kelly Sen. Loeffler (R-Ga.).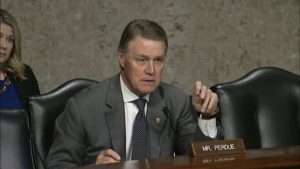 Perdue, who serves as chairman of the SASC Seapower Subcommittee, represents Robins Air Force Base in Georgia, where the 461st Air Control Wing currently flies E-8 JSTARS aircraft, and has recently led an effort to have the Air Force provide greater transparency into its Advanced Battle Management System program.
As the balance of power in the Senate shifts to Democrats, with Vice President-elect Kamala Harris to serve as a tiebreaker, Reed would likely take the helm of SASC as Sen. Jim Inhofe (R-Okla.) moves over as the ranking member.
Following the results of Georgia's election, analysts predicted Reed would maintain a bipartisan approach to push for defense policy while navigating a flat or slightly declining budget outlook.
Reed has served as the top Democrat on SASC since 2015, where's he's held strong support for the Navy's submarine shipbuilding plans and modernization of the nuclear triad and has been vocal for legislation to prohibit arms transfers to Saudi Arabia.
In the new Congress, Sen. Gary Peters (D-Mich.) will likely take over as chair of the Senate Homeland Security & Governmental Affairs Committee while Sen. Bernie Sanders (I-Vt.) is in position to chair the Senate Budget Committee, where he would have an expanded role to push for reduced defense spending.
On Tuesday, House Speaker Nancy Pelosi (D-Calif.) also named three new Democratic members of the House Armed Services Committee: Reps. Joe Morelle (D-N.Y.), Kai Kahele (D-Hawaii) and Sara Jacobs (D-Calif.).