The House Armed Services Committee's vice chair, and one of panel's top Navy proponents, wants to see the service form a new maritime strategy that avoids assumed budget constraints and details capabilities "it actually needs" to counter China.
During a Hudson Institute discussion, Rep. Elaine Luria (D-Va.) said she believes the Navy lacks an actionable long-term vision required for a new strategy and advocated for the service to receive annual five percent topline increases to ensure the necessary investments to maintain deterrent capabilities.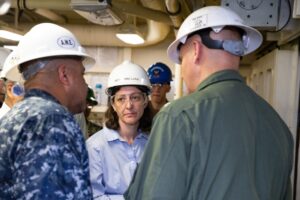 "There really is no long-term vision, as far as strategy for the Navy. The real truth of it is that I think strategy has to come before requirements, before the [five-year planning guidance process], before the budget, and we're doing it all backwards," Luria said. "I felt like they're already coming in constrained. They assume this is the only topline they're going to get and using that as a mindset to say this is the best we can get, this is the best we can do for the money you're going to give us."
Luria has been among the main proponents of HASC Democrats calling for a topline increase to the administration's proposed $715 billion fiscal year 2022 Pentagon budget.
"I will continue working to ensure our armed forces have the resources they need to outpace our near-peer adversaries in the Pacific. The House defense budget should match the $25 billion increase that the Senate approved on a bipartisan basis," Luria said in a July 29 social media post, referencing the Senate Armed Services Committee's decision to approve a topline increase (Defense Daily, July 22). 
A new strategy would provide senior Navy leaders an opportunity to advocate for the exact mix of fleet capabilities required for a shift to great power competition with China, according to Luria, who said the change could help address contentious issues such as proposed ship decommissioning.
"This year, there was a huge disappointment to see that they came with a budget that essentially proposed only building one destroyer, decommissioning more ships than they're building this year, and I thought it just really missed the mark," Luria said during the discussion. "We can divest of everything we have today just for the hopes that we're going to have some new technology 20 or 30 years down the road, because we haven't had a great track record with developing new systems with a lot of new technologies."
Luria has said previously she plans to work with other HASC members on an amendment to be introduced at the full committee's NDAA markup aimed at curbing the Navy's plan to retire seven of cruisers (Defense Daily, July 28). 
On the Navy's emphasis on bolstering its fleet of unmanned platforms over the next several decades, Luria said she does support "some modest investments for developing the technology for down the road" while adding that a holistic maritime strategy would likely prioritize resourcing a mix of capabilities more ready in the near-term.
"Can you imagine a ship crossing the Pacific not manned…I mean, how does a ship operate that long at sea with no intervention? It doesn't seem practical to me," Luria said.