An annual Pentagon report on China's military developments finds it is already outpacing the U.S. in a few areas, including total Navy ship numbers.
The report, "Military and Security Developments Involving the People's Republic of China, 2020" underscored the Chinese government's objective for the People's Liberation Army (PLA) is for it to become a "world-class" military by 2049, which the U.S. interprets as likely meaning equal to or serious to the U.S. or any other great power Chinese views as a threat.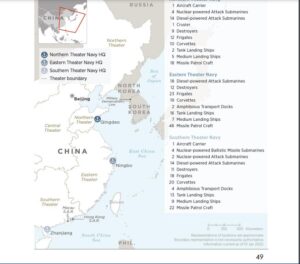 However, it said China already has the largest navy in the world, at a total battle force of about 350 ships and submarines including over 130 major surface combatants. In contrast, the U.S. had 293 ships as of early 2020.
The 2019 edition of the report said China had the largest navy in the region but did not explicitly say it was the largest in the world.
"The People's Liberation Army Navy (PLAN)—the largest navy in the world—is an increasingly modern and flexible force that has focused on replacing previous generations of platforms with limited capabilities in favor of larger, modern multi-role combatants. As of 2019, the PLAN is largely composed of modern multi-role platforms featuring advanced anti-ship, antiair, and anti-submarine weapons and sensors," the report said.
However, during an American Enterprise Institute webinar, Deputy Assistant Secretary of Defense Chad Sbragia said numbers are not everything and the country has kept pace with its increasing budgets that aim to grow the force for greater sea or global power projection capacity.
"Those numbers will likely increase and we estimate they will. Of course, numbers are one element, that's not all of the elements. There is tonnage, capacity, capability sets, sophistication, and a whole range of other kind of logistics, communication aspects of that."
The report contended the PLAN is engaged in a robust shipbuilding and modernization program that includes submarines, surface combatants, amphibious warfare ships, aircraft carriers, and auxiliary ships.
The Pentagon reiterated China commissioned its first domestically-built aircraft carrier in late 2019 and expects the second one to enter service by 2023. Last year it also launched the first Yushen-class amphibious assault ship (Type 075 LHA), the first in a class of large deck amphibious warships.
The report said China's modernizing navy reflects a growing emphasis on maritime issues and increasing demands for the PLAN to shift from defense of near seas to operating at greater distances from the mainland.
The report underscored the Chinese government places a high priority on modernizing the PLAN submarine force. It currently operates four nuclear-powered ballistic missile submarines (SSBNs) and 50 diesel-powered attack submarines. The report judges the PLAN is judged to likely maintain 65 to 70 submarines through the 2020s as it largely replaced older vessels with more capability units on almost a one-to-one basis.
Specifically, the Pentagon expects China to produce 25 or more total Yuan-class diesel-electric air-independent-powered attack submarines by 2025. The report also noted PLAN has built 12 nuclear submarines over the last 15 years, with the four operational Jin-class (Type 094) SSBNs representing China's "first credible sea-based nuclear deterrent."
By 2030 China could operate up to eight SSBNs at the same time.
The Pentagon judges the PLAN is likely to build the Type 093B guided-missile nuclear attack submarine, a variant of the current Type 093 Shang-class vessel. This will enhance China's anti-surface warfare capability with a potential land-attack option. However, DoD said the PLAN still lacks a robust deep-water antisubmarine warfare capability.
On the surface side, the report finds the PLAN continued a robust shipbuilding program in new guided-missile cruisers, destroyers, and corvettes.
"These assets will significantly upgrade the PLAN's air defense, anti-ship, and antisubmarine capabilities and will be critical as the PLAN expands its operations beyond the range of the PLA's shore-based air defense systems," the report said.
The report outlined new Renhair-class cruisers (Type 055) that carry anti-ship cruise missiles, surface-to-air missiles, anti-submarine weapons, and likely anti-ship ballistic missiles when they are operational. It also said by the end of 2019 PLAN launched 23 Luyang III destroyers that feature a 64-cell multipurpose vertical launch system.
China also has produced 30 Jiangkai II-class guided-missile frigates, over 42 of an expected 70 Jingdao-class (Type 056) light frigates and 60 Hubei-class (Type 022) wave-piercing catamaran guided-missile patrol boats.
The report said as the PLAN transitions into a "global multi-mission force" adding land-attack capabilities is a logical next step.
"In the coming years, the PLAN will probably field LACMs on its newer cruisers and destroyers and developmental Type 093B nuclear attack submarines. The PLAN could also retrofit its older surface combatant and submarines with land-attack capabilities as well."
The report said investment in amphibious assault ships, LHAs, "signal its intent to continue to develop its expeditionary warfare capabilities."
It further said the new Yushen-class "are highly capable large-deck amphibious ships that will provide the PLAN with an all-aspect expeditionary capability. The Yushen class can carry a large number of landing craft, troops, armored vehicles, and helicopters."
The report added the PLAN has seven large Yuzhai-class amphibious transport docks (Type 071) with another planned to be commissioned this year. Each of these amphibious ships can carry several new Yuyi-class air-cushion medium landing craft, helicopters, tanks, and other vehicles and personnel for long-distance deployments.
Amphibious vessels will help the PLA Navy Marine Corps (PLANMC) finish its expansion to focus on expeditionary operations.
Despite vessel expansion, PLANMC plans to fully equip a force structure of eight brigades with reform and modernization "has proven slower than expected."
The report said China's Central Military Commission's milestone for the PLA to generally achieve mechanization was set for the end of 2020, before the Chinese Communist Party's centenary in 2021.