Boeing [BA] has delivered the first MH-47G Block II Chinook heavy-lift aircraft to U.S. Special Operations Command, the company said Tuesday.
"This delivery marks a major step for the Chinook program," Andy Builta, Boeing's H-47 program manager, said in a statement. "The new Chinook will give U.S. Special Operations Forces significantly more capability for extremely challenging missions and will enable them to conduct those missions on the future battlefield."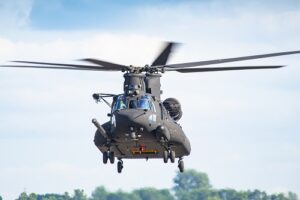 SOCOM awarded Boeing a $265 million deal in July for nine MH-47G Block IIs, bringing the total number under contract to 24 aircraft (Defense Daily, July 31).
The MH-47G Block II is the SOCOM-specific variant designed with new rotor blades, improved drivetrain and an upgraded fuel cell system.
The Army has proposed cutting its buy of Chinook Block IIs as a means of transferring funds toward modernization, with plans to only procure the G-model variants for SOCOM (Defense Daily, Feb. 10).
Congress has pushed back on the move, with House appropriators looking to restore $163 million to the Army's CH-47F Block II procurement program for fiscal year 2021 (Defense Daily, July 13).