The Chief of Naval Operations (CNO) this week said the Navy intends to field hypersonic missiles aboard the Zumwalt-class destroyers by 2025, reversing previous plans to first install the weapons on submarines.
By 2025, fielding hypersonics on
Zumwalt-class (DDG-1000) destroyers will be an important move forward to turn that into a strike platform," CNO Adm. Mike Gilday said during a Center for Strategic and Budgetary Assessments on Tuesday.
Gilday reiterated that "our biggest R&D effort is with hypersonics – to deliver that capability in 2025, first on surface ships and then on Block V [Virginia-class] submarines."
He argued this work is an example of how the Navy is looking to extend its capability forward in a distributed manner using the Distributed Maritime Operations concept " to come at an adversary in a variety of different vectors to make it very difficult for him to target us."
This is a sharp turn from previous plans that first sought to place conventional hypersonic weapons on submarines before moving to surface vessels after.
Last October, former National Security Advisor Robert O'Brien said Conventional Prompt Strike (CPS) hypersonic missiles would first be based on Virginia-class attack submarines (SSNs) before later being added to Zumwalt-class destroyers and eventually all Arleigh Burke-class destroyers (Oct. 22, 2020).
However, a month later Vice Adm. Johnny Wolfe, director of Strategic Systems programs, said the CPS capability would be deployed to the Army first in 2023 and then with the Navy, first on Ohio-class non-nuclear weapon guided-missile submarines (SSGNs) by roughly 2025 before later being deployed on Block V Virginia-class SSNs with the Virginia Payload Module starting in 2028 (Defense Daily, Nov. 18, 2020).
In recent months, the Navy has been pushing ahead with efforts to arm the three-ship class of DDG-1000s with hypersonic weapons after the fiscal year 2021 National Defense Authorization Act included a provision directing the service to start work on integrating the CPS weapon onto the destroyers by the beginning of this year (Defense Daily, June 21, 2020).
In January, Rear Adm. Paul Schlise, Director of Surface Warfare Division (OPNAV N96), told reporters the service was moving out on the effort since it was the law and to that end the Navy is studying adding a new Vertical Launch System larger than the current Mark 41 to the DDG-1000s for the CPS. That larger diameter VLS is also being incorporated into top level requirements for the next class of destroyers, the DDG(X) (Defense Daily, Jan. 12).
Last month, the Navy published a notice requesting white papers from industry on capabilities to install the hypersonic missiles on the Zumwalt-class (Defense Daily, March 29).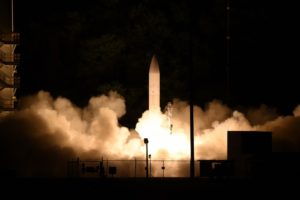 Relatedly, Gilday reiterated his opinion that directed energy weapons will help the Navy's surface vessels defend against an expected future where an adversary like China will have access to ubiquitous commercial or military imagery coverage of the Pacific.
"That information will be available to an adversary, whether he or she purchases it or whether they steal it, but it's going to be difficult to hide."
Gilday said everything they do is informed by what China is doing and the Defense Department sees China not only investing in the size of its navy but also missile technology and satellites.
"So that's not lost on us and I think directed energy, with respect to the future survivability of the fleet, is really important."
"If you think about the fact that a Ford-class carrier generates three times the electrical power of a Nimitz-class or that we've got excess power generation in Zumwalt-class destroyers. We get that same capability on an unmanned vessel whether it's medium or large."
Earlier this month Gilday argued directed energy and laser technology will help the Navy defend against enemy missiles because it is more affordable than defense via "a lot of very expensive, exquisite missiles" (Defense Daily, April 7).
The Defense Department is developing a Common Hypersonic Glide Body to be used by all three services for the CPS mission. The Army and Navy will share an All-Up Round that encapsulates and launches the weapon while the Air Force will use a separate launching mechanism.