The Army plans to utilize commercial services and the Space Development Agency's (SDA) future transport layer to support data transport needs for the service's future Tactical Space Layer, a lead official said Thursday.
"The best answer is we plan to use both. It's not different from how we use satellite communications today," Willie Nelson, director of the Army's Assured Positioning, Navigation and Timing (PNT)/Space Cross-Functional Team (CFT), said during a C4ISRNET discussion. "Clearly, going forward, there needs to be a plan to accommodate both because the data requirements aren't going down, they're only going up."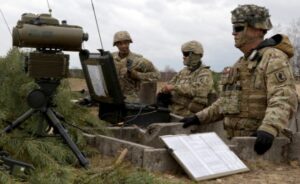 Nelson said establishing a complementary path utilizing both SDA's mesh satellite network capability and industry's latest data transport advancement will be "absolutely essential to staying on track" with the development of the Army's Tactical Space Layer.
The Army announced on April 19 it had approved the Abbreviated Capabilities Development Document (A-CDD) for the Tactical Space Layer effort, allowing the program to move into rapid experimentation as it seeks to synchronize tactical space-based sensors with supporting ground-based equipment aimed at reducing the sensor-to-shooter timeline (Defense Daily, April 19).
"It's an acknowledgement that the Army relies on space for a lot of things. We rely on it for communications. We rely on it for PNT and ISR applications. How we use those things are changing and how we integrate those capabilities are changing. So, what the A-CDD does is it helps codify our initial requirements and then guide the experimentation and prototyping efforts within communications, PNT and ISR to help us move down the path toward a program of record or records," Nelson said.
Nelson noted the Army is closely tracking industry's developments in low-Earth orbit satellite capabilities that could help bolster the Tactical Space Layer's ability to help soldiers more rapidly survey the future battlefield.
"We hope like heck that the commercial industry is successful," Nelson said. "Today, significant commercial capability, both in low-Earth orbit and mid-Earth orbit, will be utilized to be able to show that rapid movement of data around the battlefield and across large geographic areas as well."
The SDA's plan to use optical inter-satellite links with commercial satellite imagery providers can further improve the Tactical Space Layer's ability to reduce the sensor-to-shooter timeline and make it more resilient, according to Nelson.
SDA is planning to field 150 small size, weight and power laser communications satellites in Tranche 1 of the transport layer by September 2024 and is to field additional tranches every two years.