The Senate Armed Services Committee has delayed its mark-up of the next National Defense Authorization Act (NDAA) until July due to "uncertainty of the timing of the president's budget submission," the panel's chairman announced Thursday.
An official delay in SASC's NDAA mark-up process, which typically takes place in May, is another signal the bill and the eventual defense appropriations process will face an uphill path to being completed before Congress' planned August recess.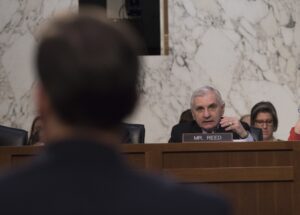 Sen. Jack Reed (D-R.I.), the SASC chair, said the committee plans to focus on hearings for 23 current nominations in May before bringing in senior defense leaders to testify on military posture and budget requirements in June.
Rep. Adam Smith (D-Wash.), the chairman of the House Armed Services Committee, has urged the White House on several occasions to deliver its FY '22 budget request by May 10, adding that any further delay would almost certainly lead to starting the next fiscal year under a continuing resolution (Defense Daily, April 13).
Smith said last week he doubts Congress will forgo its August recess in order to get a delayed appropriations process completed by the end of the fiscal year (Defense Daily, April 22).
The White House has released FY '22 topline budget numbers, which include a slightly increased Pentagon budget request of $715 billion, but no details yet on specific funding items.