A top Pentagon official on Tuesday said the Cost Assessment and Program Evaluation (CAPE) office will conclude its sufficiency review of the DoD's Redesigned Kill Vehicle (RKV) Analysis of Alternatives within two weeks.
In May, Under Secretary of Defense for Research and Engineering Mike Griffin directed the Missile Defense Agency (MDA) to issue a stop-work order on the RKV following a review of technical issues that delayed its development and would have cost hundreds of millions of dollars to fix (Defense Daily May 24).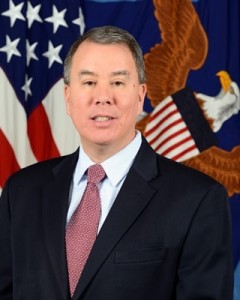 Concurrently, Griffin initiated an Analysis of Alternative (AoA) courses of action to help determine where the department should move as it looked to cancel RKV.
Rood characterized this as Griffin's review finding the RKV design "would not meet the rigorous standards of performance that we had."
In August, Griffin announced the Department of Defense was canceling the RKV and would start a new Next-Generation Interceptor (NGI) to replace the RKV capability (Defense Daily, Aug. 21).
The MDA planned to build 20 new Ground-Based Interceptors (GBIs) armed with the improved Redesigned Kill Vehicle for the Ground-based Midcourse Defense (GMD) system, to be located in silos at Ft. Greely, Alaska. This would increase the total number of GBIs from the current 44 to 64 interceptors.
During a Missile Defense Advocacy Alliance event on Tuesday, Rood explained the AoA "looks at different systems, different particular capabilities and does comparative analysis."
Once an AoA is conducted "an independent group does the sufficiency review to examine it," he continued. Rood expects the review to be completed within the next two weeks.
Since the RKV was canceled, the department "moved out smartly, the Missile Defense Agency has released the Next-Generation Interceptor draft RFP, they received comments from industry, and they're on track to put out a second draft or what we hope will be a final Request for proposals in October," Rood said.
Last month, MDA briefed industry on the draft NGI RFP (Defense Daily, Aug. 27).
He argued the NGI effort is moving quickly and said the department is positioned for near-term responses from industry on the NGI.
"The Missile Defense Agency advises me they are poised to try to rapidly move to award," he added.
Rood confirmed the NGI program still seeks to fill the hole of the planned 20 RKV-armed GBIs to reach 64 interceptors for the GMD system.
While NGI funding will be included in the President's Fiscal Year 2021 budget request, Rood admitted there is "some perturbation to the program."
However, he said DoD will continue constructing the silos for the GBIs/NGIs at Ft. Greely to be ready to house the interceptors.
This matches comments from Griffin earlier this month that the NGI program change would delay deploying additional interceptors for GMD "by a few years" (Defense Daily, Sept. 4).
Separately, Rood noted while the Aegis Ashore site in Poland has been delayed, DoD believes construction will be completed within a year. He did not disclose exactly when in 2020 construction is expected to be finished.
Last year, former MDA Director Air Force Lt. Gen. Samuel Greaves told Congress there were delays in construction due to lower than expected performance from the construction contractor, moving delivery to 2020 (Defense Daily, April 13, 2018).
A June Government Accountability Office (GAO) report revealed the site's completion was pushed back by 18 months, to May 2020 (Defense Daily, June 7).