House Armed Services Committee member and retired Marine Rep. Paul Cook (R-Calif.) plans to retire in 2020, becoming the 13th GOP member and sixth HASC member to leave the House after this Congress term ends.
The LA Times first reported Sept. 17 that Cook, 76, plans to retire and run for San Bernardino County Board of Supervisors. The retired Marine Corps colonel first entered Congress in 2012, and won reelection in the midterm elections with 60 percent of the vote, according to the Associated Press.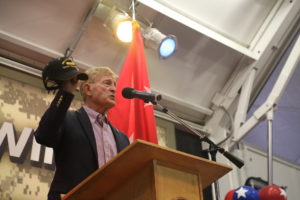 Cook announced his plans to run for local office in a Tuesday statement. Current Supervisor Robert Lovingood announced he would not seek reelection last month.
"Serving in Congress has been an absolute honor. … Our high desert needs continued strong leadership at the county level, and I pledge to fight for this area with the same dedication and conviction I've demonstrated my entire career."
"As supervisor, I'll work to carry out the will of my constituents, while fighting the bureaucracies in Sacramento and Washington, D.C., that seek to overrun rural communities like ours," he continued.
Cook, a Vietnam War veteran, served as a Marine Corps infantry officer and retired in 1992 after 26 years in service. He currently serves on the HASC subcommittees for tactical air and land forces as well as seapower and projection forces. He also serves on the House Committee on Natural Resources.
His district includes the Army's Fort Irwin National Training Center near the Mojave Desert.
Cook received about $2,000 from defense employees for his 2018 reelection campaign, as well as $89,500 from defense-related political action committees during that cycle, according to data compiled by the nonpartisan Center for Public Integrity.
Defense contractors have donated over $267,500 to Cook over the course of his congressional career. Northrop Grumman [NOC], Honeywell Inc. [HON] and General Dynamics [GD] sit among his top contributors since 2011, with Northrop Grumman contributing $39,000 and Honeywell and GD each donating $31,000.
Five other HASC members have previously announced their retirement from Congress in 2020, including: Republican Reps. Rob Bishop (Utah), Mike Conaway (Texas), Bradley Byrne (Ala.), and Paul Mitchell (Mich.), as well as Rep. Susan Davis (D-Calif.).