The Defense Department Office of the Inspector General announced Sept. 16 it plans to evaluate how the Air Force determined requirements to design and develop the refueling boom of the KC-46A Pegasus airborne tanker, which was discovered in 2018 to have issues connecting to one service aircraft and scraping when deployed.
"Our objective is to determine whether the Air Force adhered to DoD and Air Force systems engineering processes during the design and development of the KC-46A airborne tanker refueling boom," the office said in a Monday letter to the Air Force's auditor general's office. The evaluation is scheduled to begin this month at Wright-Patterson Air Force Base, Ohio.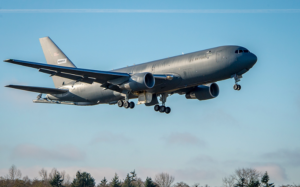 The KC-46 program has retained three Category-1 deficiencies even as the Air Force began accepting deliveries in January, including one related to the boom where it has difficulty connecting to the fairly lightweight A-10 attack aircraft. It recently designated a fourth Category-1 deficiency related to cargo locks that started to unlock mid-flight, Defense News first reported Sept. 13.
The service is funding the boom fixes, and former Air Force Secretary Heather Wilson told reporters in January it would be "a fairly simple fix" to redesign the actuator so that it could connect to the fairly lightweight A-10 attack aircraft.
Air Force Materiel Command Commander Gen. Arnold Bunch told reporters Tuesday "We would welcome them and we will share with them all the information and see where we go from there."
"It's a fair question for them to ask, given that we have already said that we did not translate the boom load properly in that one area, and that is one that we've said we will have to pay to get fixed," he added.
Boeing went under contract in August to work on the boom fix and is expecting a design review in mid-2020, said James Burgess, KC-46 vice president and program manager in a Sept. 17 interview.