Air Force leadership said April 2 that it has halted deliveries of the Boeing [BA]-made KC-46A Pegasus aerial refueler for the second time in less than two months after inspectors found new foreign object debris (FOD) on the flight line.
Testifying before the House Armed Services Committee Tuesday, Air Force Secretary Heather Wilson said the service had once more halted deliveries after FOD was found in closed compartments.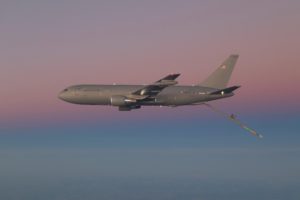 She told HASC Chair Adam Smith (D-Wash.) that additional measures are being put in place to inspect all closed compartments to ensure "the production line is being run the way that it needs to be run."
Air Force Chief of Media Operations Ann Stefanek confirmed in a Tuesday statement that the decision to halt acceptance was made on March 23. Meanwhile, inspectors found additional FOD this week "and areas where Boeing did not meet quality standards," the statement said.
The issues are unrelated to design or engineering specifications, she noted, adding. "Air Force leadership is meeting with Boeing to approve additional corrective action plans before aircraft acceptance can resume."
Boeing has delivered seven KC-46A to the Air Force since the initial delivery was made in late January (Defense Daily, Jan. 25). The service first paused deliveries in late February when foreign object debris was initially discovered on the manufacturing line, officials told reporters at the Air Force Association's annual Air Warfare Symposium in Orlando, Florida (Defense Daily, Feb. 28).