The Biden administration on Wednesday indicated support for maintaining a ban on Chinese telecommunications firm Huawei, calling the company "a threat to the security of the U.S. and our allies."
Jen Psaki, the White House press secretary, clarified the administration's stance on Huawei after several lawmakers scrutinized Commerce Secretary-nominee Gina Raimondo's unclear answer during her Tuesday confirmation hearing on whether the company would remain blacklisted.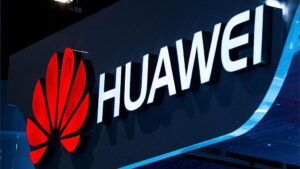 "Let us be clear: Telecommunications equipment made by untrusted vendors, including Huawei, is a threat to the security of the U.S. and our allies. We'll ensure that the American telecommunications network do not use equipment from untrusted vendors, and we'll work with allies to secure their telecommunications networks and make investments to expand the production of telecommunications equipment by trusted U.S. and allied companies," Psaki said during a White House press briefing Wednesday.
In 2019, Trump's Commerce Department added Huawei to the entity list, essentially restricting U.S. companies from doing business with the Chinese firm.
Raimondo, the former governor of Rhode Island, said during her Senate confirmation hearing she would "use the full tool kit at my disposal" to protect against interference threats posed by Huawei, but did not explicitly commit to keeping the company on the ban list.
"We can't have the Chinese or really anyone having a backdoor into our network and compromising in any way our national or economic security," Raimondo said.
Following her hearing, Rep. Michael McCaul (R-Texas), the top Republican on the House Foreign Affairs Committee, said the Senate should hold Raimondo's nomination until the Biden administration committed to keeping the restriction on Huawei in place.
"It is incredibly alarming the Biden administration has refused to commit to keeping Huawei on the Department of Commerce's Entity List," McCaul said. "Saying people should not use Huawei and actually keeping them on the Entity List are two very different things that result in very different outcomes. I again strongly urge the Biden administration to reconsider this dangerous position. Until they make their intentions clear on whether they will keep Huawei on the Entity List, I urge my Senate colleagues to hold Ms. Raimondo's confirmation."
The Senate Committee on Commerce, Science, and Transportation is planning to vote on moving Raimondo's nomination forward on Feb. 3.