The Pentagon's senior leaders said the fiscal year 2022 budget request, set to be released on Friday, will give the department flexibility to divest of legacy systems and is "biased toward the future" as the services look to make significant investments in future weapon systems.
"Informed by the president's Interim National Security Strategy guidance and my own message to the force, it funds the right mix of capabilities that we need most to defend this nation now and in the future. It invests in hypersonic weapons, artificial intelligence, microelectronics, 5G technologies, cyber capabilities, shipbuilding, climate change resilience and nuclear modernization, to name a few," Defense Secretary Lloyd Austin told lawmakers on Thursday during a House Appropriations Defense Subcommittee (HAC-D) hearing. "It gives us the flexibility to divest ourselves of systems and platforms that do not adequately meet our needs, to include older ships, aircraft and ISR platforms that demand more maintenance and upkeep and risk than we can afford."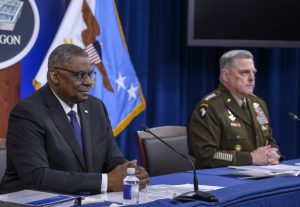 Army Gen. Mark Milley, the chairman of the Joint Chiefs of Staff, called the proposed $715 billion topline for the department a "modest increase" over this year's funding level, while adding he believes its an adequate number to drive an emphasis on modernization.
"It strikes an appropriate balance between preserving present readiness and future modernization. But it is biased toward the future operating environment and the readiness it's going to take in the future for this fundamental change in the character of war that we are currently undergoing," Milley said. "When I first became chief of staff of the Army six years ago, when I looked at that budget we were mortgaging our future to pay for the present. Today, it's the opposite. We are trying right now to put down payments on investments that are going to pay huge dividends five, 10, 15 years from now for a future force that will be able to compete successfully with any adversary out there, to include China."
The Biden administration in April detailed plans to request a $715 billion topline for the Pentagon, which would be a 1.6 percent increase over FY '21's $704 billion budget, but has since faced scrutiny from Republican lawmakers that it falls short of previous calls for three to five percent budget growth to meet initiatives required for competition with China and Russia (Defense Daily, April 9). 
"I've heard some say that the budget is an increase of $11 billion but when you factor in inflation, and by the way inflation is going up not down, it's actually about a 0.4 percent cut," said. Rep. Ken Calvert (R-Calif.), the HAC-D ranking member.
Austin said, although the topline request falls below that three to five percent threshold, he believes the proposed budget will allow the department to fund "the right mix of capabilities."
"It, in fact, does provide us the ability to go after the capabilities that we need," Austin said.
Calvert also pressed the Pentagon leaders on wanting the department to be more transparent with Congress on divestiture decisions, specifically citing concerns on potential plans to reduce a number of the Navy's littoral combat ships (LCS) and the Air Force's MQ-9 Reaper drones.
"With significant service life left, the Navy proposed decommissions in the FY '21 budget [request]. Congress reviewed the request and was very clear that we opposed the decommissioning of the LCS 3 and 4 and they should be used in the SOUTHCOM [Area of Responsibility]. It's my understanding that the Navy is ignoring Congressional intent and will again propose to decommission these very same ships in the FY '22 budget [request]," Calvert said. "Almost every combatant command has told this subcommittee that they need more, not less, MQ-9 access. However, the Air Force keeps proposing to divest . Even more concerning is that there isn't something that will immediately replace the mission. Often DoD and the services propose to divest one system and replace it with a system that is just an unproven concept."
During the hearing, Milley did express concern that a lower topline would potentially place modernization programs across the department in a tenuous situation, echoing remarks from senior service leaders in recent weeks that "tough choices" may be required to continue development efforts. 
"We have a variety of very advanced technologies that are all converging in time and space over the next 10 to 15 years. Those are hypersonics, precision munitions, robotics, artificial intelligence and a wide variety of other technologies. If we do not put a lot of money toward those and develop them to a level of capability to deploy in our joint force then we will be at a significant disadvantage to those countries that do develop them," Milley said.
Both officials looked to quell concerns that the Army would have to serve as "the bill payer" in this budget in order to keep Air Force and Navy priorities on track, with Milley telling the panel that the Army "will not get shortchanged."
"Let me assure you that, from my perspective, our effort is not to make the Army be the bill payer for the Air Force and the Navy. The Air Force and the Navy are also taking a hard look at themselves, and the Marine Corps as well, to see what they should no longer invest in so that they can create opportunities for themselves and invest in increased capability going forward," Austin said.