The Army has awarded prototype deals to Palantir [PLTR] and General Dynamic Mission Systems
[GD] to provide multi-level security data fabric software that will inform design decisions for the service's fiscal year 2023 network modernization capability drop (CAPSET 23).
Each company received deals worth $2 million to deliver prototypes that will be tested in Army laboratories, with an option for the service to select one or both vendors to participate in further experimentation in a second phase.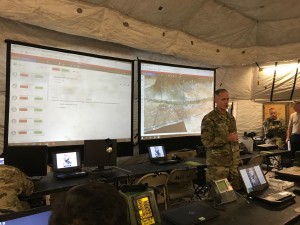 "The Army's solicitation sought a common data fabric (CDF) built to streamline the tactical environment by aggregating and scaling data at point of need and providing applications without need for constant reconfiguration. The effort, now in prototype experimentation, also seeks to reduce development time and costs by leveraging commercial off the shelf technologies that support a connected and disconnected data environment where compute, storage and resourcing are in high demand," Paul Mehney, a Program Executive Office for Command, Control and Communications-Tactical (PEO C3T) spokesman, told Defense Daily. 
The software provided will be used to support the Army's new Command Post Computing Environment (CPCE), with a goal of assessing the ability for the common data fabric and data security solutions to enable identity access management, data segregation and data tagging.
"Palantir is proud to provide a prototype engagement that will allow the Army to inform network design decisions by assessing how modern data fabric and security solutions can enable enhanced situational awareness, improve command and control, and improve collaboration with joint, allied and coalition partners," Palantir wrote in a statement. "This is a two phased effort in which Palantir will configure its commercial [Gotham] solution for data management, a platform that is currently being used by hundreds of customers across government and commercial industries."
General Dynamics Mission Systems said it will supply its Multi-Level Enterprise Platform (MEP) and Smart Data Fabric capabilities for the effort, collectively called the Secure Data Fabric, that aims to provide the security between the CPCE and broader tactical data environment. 
"We're excited to partner with the Army as they evaluate options for Capability Set 23. Our Secure Data Fabric offering integrates General Dynamics Mission Systems' proven tactical data management and MLS Enterprise Cyber Security products and experience, creating a unified data environment for Army units, regardless of the source and security level of the data," Matthew Billingsley, a company spokesman, told Defense Daily. "With this software, CPCE has access to the full set of tactical data, linking CPCE to other mission commands, intelligence and fires applications as well as joint and coalition data."