After revising selection criteria six months ago, the Department of the Air Force named six possible headquarters locations for U.S. Space Command on Nov. 19–Kirtland AFB, N.M.; Offutt AFB, Neb.; Patrick AFB, Fla; Peterson AFB, Colorado; Port San Antonio, Texas, and Redstone Army Airfield, Ala.
Four of those selections–Kirtland, Offutt, Patrick and Port San Antonio–were not included in the Air Force's original downselect of possible U.S. Space Command headquarters locations in May last year. (Defense Daily, May 15, 2019).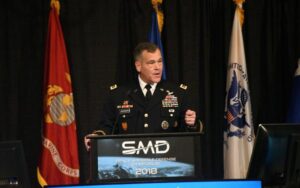 Those original locations included four bases in Colorado – Peterson AFB, Schriever AFB, Cheyenne Mountain Air Force Station and Buckley AFB – along with Redstone Arsenal, and Vandenberg AFB, California.
U.S. Space Command was established in August 2019, and has been informally housed at Peterson AFB– the former location of Air Force Space Command – since then.
The Air Force said on Nov. 19 that it considered communities across 24 states in the revised process. The service said that it expects to choose a headquarters site early next year after conducting on-site visits and considering "factors related to mission, infrastructure capacity, community support, and costs to the Department of Defense."
Municipality representatives were allowed to self-nominate their communities, which had to meet three criteria: a population base that is within the top 150 largest Metropolitan Statistical Areas in the United States, location within 25 miles of a military base, and having a Livability Index score of 50 points out of 100 or higher as determined by the American Association of Retired Persons Public Policy Institute.
When fully established, U.S. Space Command will include about 1,400 military and civilian personnel, the Air Force has said.
Florida officials, including Republican Gov. Ron DeSantis and Sen. Rick Scott (R-Fla.) – a Senate Armed Services Committee member and DeSantis' predecessor, have talked with the White House about moving the U.S. Space Command headquarters to Florida–a possibility now that the Air Force's revised list includes Patrick AFB.
U.S. Space Command – a geographical combatant commander — is a separate entity from the U.S. Space Force, the newest branch of the U.S. armed forces that sits under the Department of the Air Force. The U.S. Space Force headquarters is situated at the Pentagon, along with all the other services' official headquarters.