FT. STEWART, Ga. — The Army has received positive feedback from soldiers participating in a pilot effort to assess requirements for bringing on-the-move (OTM) communications capacity to armored formations, citing the potential for new capabilities to allow for more dispersed, secure connectivity on the future battlefield.
During the recent pilot here, soldiers from the 2nd Armored Brigade Combat Team, 3rd Infantry Division experimented with three different "equipment sets" of surrogate armored vehicles outfitted with a range of new satellite and line-of-sight networking tools that will help inform design goals for the service's third network modernization capability drop slated for fielding in fiscal year 2025.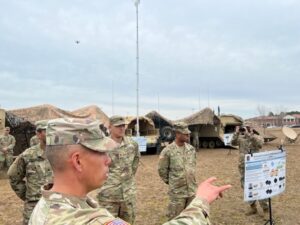 "We know that on the future battlefield you've got to fight dispersed and distributed," Maj. Gen. Charles Costanza, commanding general of the 3rd Infantry Division, told reporters during a visit here last week. "This capability would enable us to fight a little bit more distributed and dispersed. And then, with future modernization efforts that were doing with vehicles like AMPV, you put those two capabilities together then I think this is really going to improve our ability to fight and survive on the future battlefield."
Feedback was collected on how the new capabilities enabled greater speed in terms of setting up equipment and ease of platform integration, Army officials said, as the service explores how to bring advanced connectivity to maneuver formations.
"We're actually challenging [the soldiers]. We're actually making them move throughout. We've replicated a full fight; offense, contact, attack and defense for all three [equipment sets]," Col Terry Tillis, commander of the 2nd ABCT, 3rd ID, told reporters. "The general feedback we've received so far is it's easy to use, it's expeditionary in mindset and allows us to keep a much smaller command post signature which will help us increase our survivability."
Tillis said providing resilient and redundant networking capabilities to armored formations will offer increased survivability by moving away from static tactical operations centers in tents and providing the ability to rapidly share information while on the move or "at the quick halt."
General Dynamics Mission Systems [GD] served as the prime integrator for the pilot effort, integrating different configurations of capabilities from more than 20 vendors on 12 M1068s and four Humvees, which served as the surrogate platforms for the experiment.
Integration work for the pilot began at GD Mission Systems' facility in Taunton, Massachusetts this past fall before conducting road testing in December at Aberdeen Proving Ground in Maryland, and then shipping the equipment to Ft. Stewart in late December and early January (Defense Daily, Sept. 29).
Col. Shane Taylor, the Army's program manager for tactical networks, described Equipment Set 1 was "the most capable" featuring both line-of-sight and SATCOM capability across the formation, while Equipment Set 2 was "SATCOM-centric" and Equipment Set 3 was "line-of-sight-centric."
Each configuration featured four M1068 surrogates: an S6 with full capability to function as a command post, an S2 for intelligence, S3 for operations and a Fires platform.
Equipment Set 1 included a Get Sat MilliSat Terminal for OTM SATCOM, Silvus S/C 4480E and Triad RF THPR1021 mesh radio systems for line-of-sight capability, a 1.2M Airbus Ranger VSAT for at-the-quick-halt SATCOM and a Hoverfly tethered drone for range extension.
Meanwhile, Equipment Set 2 included a Kymeta U8 terminal providing OTM SATCOM capability but without line-of-sight tools for the S2, S3 and Fires platforms. Equipment Set 3 featured a SATCOM link via a ThinKom ThinSat 300 terminal for the S6 platform while the remaining three platforms have Persistent Systems GVR5 for line-of-sight but no SATCOM capability.
Maj. Gen. Rob Collins, the Army's program executive officer for command, control, communications-tactical, noted the Army is likely to go with a hybrid set of solutions of capabilities when it begins to assess procurement plans, based on data collected from the different configurations and affordability of certain equipment.
"We're eventually going to go back and look at the data, look at the operational concepts and make sure we assess what is the essential set of communications kit to be able to enable the mission," Collins told reporters. "There could be a hybrid [solution]. There's a significant number of those combinations. We need to sift through the data, take a look at it. And, in this fiscal environment, we'll look at how do you make sure that you have something that can scale not only operationally but fiscally as well."
Soldiers told reporters that Equipment Set 1 was "extremely resilient" and said the full suite of SATCOM and line-of-sight tools gave them confidence in the ability to conduct on-the-move command post operations in the future.
"I support having two types of networks," one soldier said, noting it provides reassurance if an adversary goes after say the SATCOM connection and there's the line-of-sight capability to seamlessly work through as well. "If it's fiscally [possible], I support it."
Another soldier who worked on Equipment Set 1 highlighted the modular setup as a potential time saver and called the removal system for server stacks "incredibly simple."
"One of things that I absolutely love about this system is that we can quickly reconfigure this for any type of mission on hand. Right now in its current setup it's a mobile setup and we can pull in FM and internet data seamlessly. But, in the event that this vehicle is down, either because of maintenance or because it's being pulled for a different mission, we can actually take the server stacks out [and reconfigure]," the soldier told reporters. "This is significantly lighter. It's more space efficient. We're not dependent on the top having to be set up. It's significantly faster overall."
For the "SATCOM-centric" Equipment Set 2, soldiers said the new, lighter capabilities provided the ability to process information rapidly on-the-move without needing to set up "an excessive amount of equipment," noting the unit was able to process up to three fires missions in less than 10 minutes which they said was "unheard of" in the current setup.
Those soldiers did note that, while the emphasis on SATCOM provided benefits for sharing information, the removal of line-of-sight across the full formation would create challenges for communication between vehicles.
On the "line-of-sight-centric" Equipment Set 3, soldiers said the new tools allowed for greater communication between vehicles on-the-move with the bolstered mesh network capabilities and cited the flat panel SATCOM equipment on the S6 platform as offering increased capability.
One soldier suggested that an added capability could be a sort of panel that indicated what communication path vehicles in the unit we're currently operating on, to easily understand who was connected on SATCOM or line-of-sight links.
"Then you're not wasting as much time making calls on different platforms and going back and forth trying to keep a checklist of who's up on what," the soldier said.
Collins noted the results of the pilot effort will continue informing network design goals for Capability Set 25, which is headed for a preliminary design review in April 2023.
"That gives us a little bit of time to get all this insight in and get that feedback into our Centers of Excellence, whether they're writing requirements or concepts. It also allows us a little extra time for technology maturity," Collins said.