The Army is readying to receive a list in the coming weeks of sensors and weapon systems that the Air Force, Navy and Marine Corps want to include in next year's Project Convergence demonstration, as the service readies to expand the "joint kill web" demonstration to include joint partners.
Brig. Gen. Ross Coffman, the Army's lead for the first Project Convergence, told reporters the Army has received full support across the services to assist in helping understand how the service's future weapon systems could form a new "sensor-to-shooter" network required for multi-domain operations against peer competitors.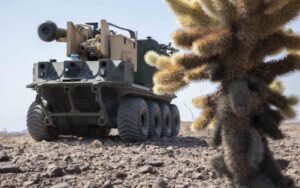 "Our eyes are wide open that this must be joint, this must be combined. So in FY '21, the joint community is coming together," Coffman said. "The Air Force, the Navy, the Marine Corps, they are all in for Project Convergence '21. What we've asked them to do is come back to us, in the coming weeks, of what  sensors and shooters they would like to integrate into this event."
The first Project Convergence at Yuma Proving Ground in Arizona concluded in September, with Army leaders lauding the results of the demonstration that brought together future capabilities, artificial intelligence-enabled systems and a new "computer brain" to prove out capacity for passing targeting data in a matter of seconds (Defense Daily, Sept. 24). 
While this year's iteration included participation from Marine Corps F-35s, the 2021 demonstration will incorporate a wider range of capabilities from across the services before opening up to coalition partners in 2022.
"This year, we demonstrated the ability to talk from F-35s to [V-22] Ospreys to ground forces, and pass ground sense targets to aircraft and aircraft sense targets to ground effectors. That was the first step," Coffman said.
Coffman said the Army didn't name specific capabilities from the other services that it wants to include next year.
"What we asked for was those sensors and those shooters that they want to integrate into the joint kill web. So we don't have an exact list today but that's coming in the next few weeks," Coffman said. 
Brig. Gen. Rob Collins, program executive officer for Command, Control and Communications-Tactical, also told reporters the Army has set up continuous engagement with the other services over the next year to study use cases for their technology in the next Project Convergence, including opportunities for data and deep sensing capabilities.
"We've got a continuous set of technical exchanges [with the Air Force]. We've got a number of focus areas. And I think the other thing we've strengthened recently without relationship is to have a continuous lab environment where we're constantly doing test, fix, test with [agile, secure development]," Collins said.