Boeing [BA] and General Atomics-Electromagnetic Systems (GA-EMS) are partnering to develop a new 100-kilowatt high energy laser (HEL) weapon system capable of scaling up to 250-kilowatts of power, the companies said Tuesday.
The new HEL directed energy capability is aimed at supporting air and missile defense requirements, and will be designed as a stand-alone platform as well as for integration on ground, sea and air platforms.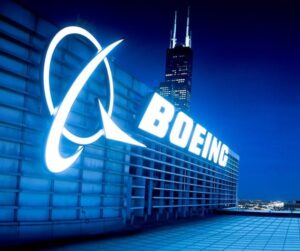 "GA-EMS has made significant advancements in developing and demonstrating highly scalable laser technologies to facilitate high output power in smaller, lighter weight packages," Scott Forney, president of GA-EMS, said in a statement. "We look forward to working with Boeing to deliver a laser weapon system with capabilities designed to meet current operational requirements, while providing the flexibility and adaptability to suit emerging platform requirements supporting missions across a multi-domain battlespace."
The new capability will combine GA-EMS' "scalable distributed gain laser technology, HELLi-ion battery systems and integrated thermal management with Boeing's beam director and precision acquisition, tracking and pointing software," according to the companies.
Boeing and GA-EMS directed energy capability would align with the Army's High Energy Laser Tactical Vehicle Demonstrator (HEL TVD) effort, which looks to build a 100-kilowatt laser to be integrated on Family of Medium Tactical Vehicle trucks while going after emerging technologies for a 250 to 300 kw capability
The Army previously awarded a team of Dynetics and Lockheed Martin [LMT] to develop a technology demonstrator for HEL TVD with a 100 kw laser, with plans to test the system in 2022 (Defense Daily, May 16 2019).
In August 2019, the Army's Rapid Capabilities and Critical Technologies Office announced it would adjust HEL TVD to go after the higher-powered 250-300 kw laser. (Defense Daily, Aug. 1 2019).