Army Secretary Ryan McCarthy said Wednesday service officials have started discussions with the White House on the need for three to five percent topline growth to meet modernization initiatives, adding the service faces a "collision course" if it's unable grow its budget in years to come.
McCarthy told reporters that, beyond its continued 'night court' reviews to find savings, the Army would have to consider potentially reducing its end strength to realign resources toward fully funding its modernization priorities.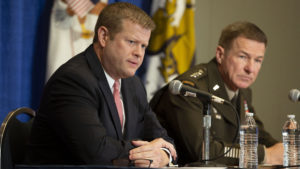 "You thought the decisions we made before were challenging, now it would be 'do you flatten end strength?' Do you tier the modernization programs by division? I don't mean to be dramatic, but you kind of are on a collision course," McCarthy said.
The Army's $178 billion FY '21 budget request included plans to cut, reduce or delay 80 programs to realign another $13.5 billion toward modernization over the next five years per the latest round of the service's "night court" reform process, which follows last year's review resulting in adjustment to 186 program to find $33 billion.
McCarthy echoed previous comments that the Army will face increasingly tougher choices in its next round of night court to find dollars it can move away from legacy systems and lower priority programs.
"If demand doesn't come down, there's no tradespace left, even if you are going to kill weapon systems we've had for 40, 50 years and if you're successful with Congress at getting that done," McCarthy said.
The Army secretary noted the tough task of pushing for topline growth in an election year, and the challenges of having to adjust its end strength to balance out funding priorities
 "I just don't know how much all this modernization is going to cost in FY '23 and '24. We have a rough idea, but a lot of it will come in what can you negotiate downstream," McCarthy said. "We're going to continue to grow [the force] until we're forced with a really difficult inflection point downstream."