The spread of coronavirus has impacted work on F-35s in Japan and Italy, the Pentagon's top acquisition official said Wednesday.
Ellen Lord, the undersecretary of defense for acquisition and sustainment, told reporters the delay is not expected to impact deliveries of the fighter jets to allies.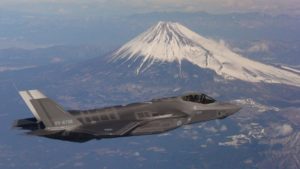 "It doesn't look like it is affecting deliveries. Right now we have not seen any effects," Lord said, following a discussion at the McAleese Conference.
Mitsubishi Heavy Industries in Japan is closing its F-35 final assembly and checkout (FACO) plant for one week.
Lt. Col. Mike Andrews, a spokesman for Lord's office, noted in a follow-on statement that only Japanese aircraft are produced at this FACO plant.
Lockheed Martin [LMT] has also instructed workers at an F-35 plant in Cameri, Italy, to work from home while the country deals with the virus.
Pratt & Whitney's [UTX] engine team in Cameri has also been told to work from home, according to Andrews, who added that the directive has not had an impact on the production line in Italy.
Lord noted that the Pentagon has tasked Ken Rapuano, the assistant secretary of defense for homeland defense and global security, to continue monitoring the virus' impact and potential impacts on the global supply chain.