BAE Systems has received $148.3 million from the Army to upgrade 43 M88 Recovery Vehicles to the latest A2 configuration, the company announced Wednesday.
The latest deal continues BAE Systems work modernizing the Army's M88A1 fleet to the A2 version of the Heavy Equipment Recovery Combat Utility Lift System (HERCULES) vehicle, with deliveries to begin in February 2021.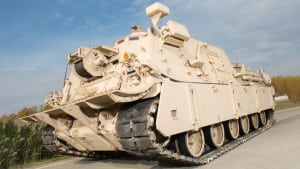 "The HERCULES is an invaluable vehicle for the Army's recovery missions," Dennis Hancock, director of BAE Systems' recovery programs, said in a statement. "We are proud to support the Army's recovery needs and we will continue to work alongside the Army to provide upgraded solutions as their missions and requirements change."
Once completed, the new work will bring the Army's total procurement of the M88A2 to 914 vehicles. The Army has previously stated it has an overall acquisition objective for 933 M88A2s.
The upgrade from the A1 to A2 configuration increases the platform's horsepower, adds upgraded armor protection and improves maneuverability to more rapidly recover 70-ton vehicles.
The new deals follows a recent $318 million contract modification to BAE Systems for the company to produce prototypes of the next-generation M88A3 configuration (Defense Daily, Sept. 23).
BAE Systems' M88A3 is intended to handle single-vehicle recovery of new Abrams tanks, with enhanced powertrain, suspension and tracks.