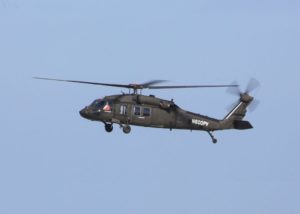 As Sikorsky [LMT] continues flight testing of its S-70 Optionally Piloted Vehicle (OPV) Black Hawk in West Palm Beach, Fla., the company said this week that Sikorsky and L3Harris [LHX] are resolving data link issues disclosed after the first, nearly hour-long flight of the OPV on May 29.
Mark Ward, the company's chief pilot, who revealed the data link issues after the OPV first flight, told reporters in a conference call this week that L3Harris "got a hold of that [information] and called us right back."
"We ended up fixing quite a bit of them," Ward said of the data link issues. "We're still not up to the maximum range we'd like. The data link I'm talking about here is for the flight test purposes, telemetry data that we use to perform the flight tests. We have several sensors on the aircraft that tell us very critical flight parameters that we're monitoring, structural as well as aircraft performance-wise that's required for the flight test."
For OPV, Sikorsky retrofitted a UH-60A Black Hawk with a technology kit to give the aircraft full-authority, fly-by-wire flight controls.
Sikorsky has said that the OPV's full-authority fly-by-wire flight control system eventually could allow the aircraft to fly without a pilot on board and that the first such test of that capability will be next year. For OPV, Sikorsky removed all legacy mechanical flight controls from the aircraft and replaced them with its MATRIX technology. The OPV kit can act as a robotic co-pilot to a human operator or enable remote operation from the rear cabin of the aircraft or the ground.
"We have to date 54.5 flight hours on the flight control system and somewhere in the 30s for ground time on the aircraft," Ward told reporters this week. "We've cleared the envelope out to our VH [maximum speed at sea level], 150 knots indicated airspeed. We have looked at our direct mode of flight control law scheme, our rate command attitude hold control scheme, and our full authority control scheme. So far testing is going well. The aircraft is responding great."
First flight on May 29 featured direct mode, and subsequent flights demonstrated the more fly-by-wire rate command attitude hold mode. The full authority control mode directs parameters, such as speed, altitude, and heading.
"Our vision is obviously not to replace the pilot but to augment the pilot," said Igor Cherepinsky, Sikorsky's director of autonomy. "That's why we've developed these numerous modes of augmentation that our customers and pilots can use as they see fit."
"Our goal here is to ensure once we field the [OPV] technology we don't ever want to see another Controlled Flight Into Terrain or Degraded Visual Environment issue or accident happen with any of our aircraft," Cherepinsky said. "The reason for picking this old [UH-60A] aircraft to demonstrate this on is to underscore the point that, not only are we looking forward to [U.S. Army] Future Vertical Lift, but we care deeply about our current fleet. We want to make sure this technology is retrofittable to our entire product line, civil and military."