Army aviation officials have detailed the service's push for open architecture initiatives, including the new Common Modular Open Architecture (CMOA) effort, to allow for rapid technology insertion and long-term cost savings on both future platforms and the enduring fleet.
"Our overarching objective is to invest once and then be able to apply that capability across multiple platforms," Brig. Gen. Rob Barrie, Program Executive Officer (PEO) for Aviation, told reporters last week. "That's something that, honestly, we haven't done quite well in the past. Instead, we have aligned resources with very specific platform requirements and then relied on a best business case within a specific platform. We have changed that paradigm and now the business case is what is the best use of resources on each of our platforms so that in the future we can make investments toward the capability and then apply that across multiple platforms."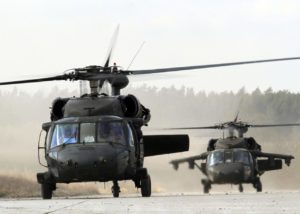 CMOA is the Army's new effort to work with industry on establishing unified standards for modular open system architecture (MOSA) that will be rolled into future ground and air platforms, as a means of reducing vendor-lock, but will look to be retrofitted onto legacy aircraft as well, according to Barrie.
On current platforms, such as Black Hawk and Apache helicopters, Barrie said CMOA will assess how to move away from bespoke configurations to allow for individual technologies to bypass an OEM's specific platform configuration before adding the new tool like an application downloaded on a phone.
"What we have committed to the aviation enterprise and to the Army is that we will aggressively pursue [CMOA] on our enduring fleet," Barrie said.
For the Army's Future Vertical Lift platforms, the Future Attack Reconnaissance Aircraft and Future Long Range Assault Aircraft (FLRAA), officials are working on the Aviation Mission Common Server (AMCS) to function as the "MOSA-compliant, digital backbone" to enable rapid technology insertion.
Col. Johnathan Frasier, project manager for Aviation Mission Systems and Architecture, told reporters AMCS is entering a critical design review period and will be demonstrated later this year.
For a platform such as FLRAA, AMCS will allow for "plug and play" of capabilities that will increase competition for next-generation subsystems and potentially drive down costs in the long-term, according to Col. David Phillips, the program's project manager.
"MOSA for is, really, is foundational. We know that FLRAA needs to be upgradeable over time. It has to be modular from the very beginning," Phillips said. "It will also open the aperture for additional competition in the future. We see that as a great outcome for the Army and the FLRAA program, specifically. Really [it's about] more efficient modifications, faster fielding of innovative capabilities, total lifecycle affordability and that right level of commonality for us."
Pat Mason, the deputy PEO for Aviation, said open architecture would specifically allow the aviation enterprise to get after advanced data fusion capabilities and new radio and transport layer technologies for future communications.
"The very first space that we clearly see the ability to leverage something from across the PEO and into the enduring fleet is the applications we would use for the integration of those radios," Mason said, adding open architecture is key to ensuring FVL advancements maintain pace with new upgrades out of the Army's tactical network modernization initiative.