BAE Systems is planning to build all future combat vehicles with capability for hybrid-electric power, a senior company official told Defense Daily
on Tuesday.
Jim Miller, the company's vice president of business development, detailed the company's emphasis on hybrid-electric as an opportunity to capitalize on operational advancements in areas such as silent watch and improved maneuverability, to include its proposed Optionally Manned Fighting Vehicle (OMFV) design.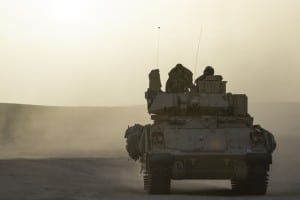 "Every future vehicle we're going to build is going to be hybrid-electric," Miller said during an interview at the Association of the United States Army's (AUSA) annual conference in Washington, D.C. "So, you can surmise from that that OMFV will be hybrid-electric."
Army officials have detailed a growing interest in exploring hybrid-electric technology for its vehicle fleets as an opportunity to reduce fuel consumption and logistics burdens, while also allowing for opportunities to get after improved capabilities such as capacity for increased exportable power.
"We can sit here in Washington, D.C. and talk about the logistics savings and fuel savings and the effects on the environment, all important things, but for the soldier the selling point is the operational capability. It's the burst speed. It is the silent watch and silent maneuver. It's about knowing you've got power for everything. And it's about the maneuverability. I mean, the difference in maneuverability is pretty amazing," Miller said.
BAE Systems is one of five firms working on refining concepts for the Army's OMFV program to find a Bradley replacement, along with General Dynamics Land Systems [GD], Oshkosh Defense [OSK], American Rheinmetall Vehicles and armor supplier Point Blank Enterprises.
Bids are due soon for OMFV's detailed design and prototype build phases, with the Army planning to award up to three contracts (Defense Daily, July 1).
"You see all of the [OMFV] bidders talking about hybrid-electric drive," Miller said. "It's really ready. It's time. And I think we're really ready for it."
Miller said BAE Systems has been working in the hybrid-electric space for around 40 years and cited the company's more recent partnership with QinetiQ to leverage its advancements in electric drive technology.
BAE Systems is now also providing the Army with two Bradley vehicles outfitted with prototype hybrid-electric drive systems for testing to inform the service's effort to understand new electrification technologies for its combat vehicle fleet.
"The hybrid-electric drive that we put into the Bradley, we made it scalable," Miller said. "And we've done that because the QinetiQ final drive is scalable between 30 and 60 tons and that covers all those vehicles. And we worked with the Army's Rapid Capabilities and Critical Technologies Office to pick the Bradley…because the Bradley engine compartment is the most restrictive of all the vehicles. So if you can make it fit in there and work in there, you can put it in all the other ones."
Senior Army officials viewed a demo with a prototype hybrid-electric Bradley over the summer, with Secretary Christine Wormuth particularly highlighting the vehicle's silent watch capability (Defense Daily, Aug. 11).
Miller said BAE Systems is also considering opportunities to put hydraulic drive capability on AMPV and its hybrid-electric Robotic Technology Demonstrator will participate in this year's Project Convergence event.
During this week's AUSA conference, General Dynamics Land Systems unveiled hybrid-electric AbramsX and StrykerX technology demonstrators, highlighting new capabilities that could be applied as upgrades to existing fleets or for new combat vehicle programs the Army may pursue (Defense Daily, Oct. 4).