Boeing [BA] is pursuing the Army's Stinger missile replacement program and will propose a solution it says offers up to three times the lethality capability of the current surface-to-air weapon system.
Jim Leary, Boeing Missiles and Weapons Systems' senior director for business development, told Defense Daily
on Tuesday the proposal for the Next Generation Short Range Interceptor program is designed to meet the Army's call for a high-technology readiness level solution by utilizing components from weapons in Boeing's current portfolio.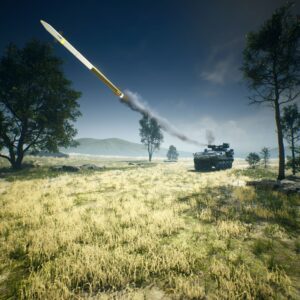 "We're taking very technically-mature pieces from critical core components, like the seeker, propulsion and things like that, that we use in some of our other programs," Leary said during an interview at the Association of the United States Army's annual conference in Washington, D.C. "There are things we're doing with the Air Force and the Navy that really pair well with this new Army capability. So we have a more mature offering."
The Army released a Request for Information in late March for its effort to find a replacement for the Raytheon Technologies [RTX]-built Stinger missiles, detailing plans to begin developing and testing new capabilities next year and aiming to begin production of 10,000 missiles in fiscal year 2027 (Defense Daily, April 11).
Army officials in the RFI detailed the need for a replacement system "to meet increasing demand and growing threat capability," noting the Stinger-Reprogrammable Microprocessor will become obsolete in FY '23 and that the "current Stinger inventory is in decline."
Leary confirmed Boeing responded to the RFI and is set to submit an enhanced white paper this week detailing its solution, with the Army planning to select up to three systems early next year to take into development.
The program is expected to move into test demonstrations with weapon systems around 15 to 18 months after contract awards, according to Leary.
"It's a very fast program. It's fully-funded by the government. It's a validated requirement," Leary said. "You can't just show up with a clean sheet of paper and expect to do this. That's why us leveraging our technologies throughout the rest of our portfolio, that are proven with some other weapon systems in other services, really offers the Army something here."
Doug Bush, the Army's top acquisition official, said in July the Army was confident in moving toward a Stinger missile replacement competition after the RFI yielded a "lot of really good responses with high-technology readiness levels" (Defense Daily, July 27).
Leary said Boeing's offering is designed to be compatible with the current Stinger launcher and command and control capabilities, and also includes a multi-mode seeker and a modular open systems architecture to allow for new technology insertion.
"It's the same weight, same diameter, same length with twice the capability [of the Stinger], maybe three times the capability in some areas from the lethality standpoint," Leary said. "Components of this have been built. We're putting it together now. So where we are from a maturity standpoint just dovetails perfectly with the government's design and development schedule for phase one and phase two."
Lawmakers have recently urged the Pentagon to establish a plan for replenishing the department's stockpile of Stinger missiles that've been transferred to Ukraine and called for prioritizing getting a modernized SHORAD system in place (Defense Daily, March 18).
As of late September, the U.S. has provided over 1,400 Stinger anti-aircraft missiles to support Ukraine in its fight against Russia's ongoing invasion.