Senate Republicans' proposed pandemic relief package includes $7 billion for new weapons procurement, ranging from F-35s to Army AH-64 Apache helicopters, drawing a sharp partisan divide on including such funds in the bill.
Republicans defended the funds as a means for ensuring the Pentagon has resources to support the industrial base during the ongoing pandemic, while Democrats in both the Senate and House criticized the move as taking funds away from specific COVID-19-related measures.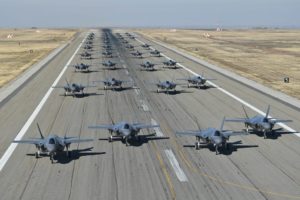 "With the virus continuing to spread, it is unclear when many of these employees will be able to return to their jobs. This uncertainty is weakening the manufacturing industry and could hurt our military's defense posture," Sen. Roger Wicker (R-Miss.), a member of the Senate Armed Services Committee, said in a statement. "Congress has not yet approved funds to mitigate losses in this industry. If nothing is done, the military could have to divert $11 billion from its core priorities to shore up defense manufacturing firms. This would weaken military readiness at a critical time and could hamper the progress we have made in rebuilding our Armed Forces."
The Senate Appropriations Committee released its proposed pandemic relief bill on Monday, which includes $29 billion total for defense, of which $19 billion would be used to assist the industrial base (Defense Daily, July 27).
Air Force-specific procurement dollars in the bill include $686 million for F-35As, $720 million for C-130Js and $650 million for A-10 wing replacements.
The Navy would receive $1 billion for P-8A Poseidon maritime patrol planes, $1.45 billion for four expeditionary medical ships, $260 million for an expeditionary fast transport ship, $250 million for amphibious shipbuilding and another $250 million to support the surface combatant supplier base program.
Army procurement funds include $375 million to upgrade Strykers to the Double V-Hull configuration and $283 million for AH-64 Apache helicopters.
The proposal also includes over $300 million for the Terminal High Altitude Area Defense missile defense program.
"The bill contains billions of dollars for programs unrelated to the coronavirus, including over $8 billion for what appears to be a wish-list from the Department of Defense for manufacturing of planes, ships, and other weapons systems, as well as $1.75 billion to build a new FBI Headquarters. What does this have to do with the immediate crisis? The bill provides nothing to address the long lines at food banks and shortchanges education and childcare, but we can shore up the defense industry? I am at a loss for words," Sen. Patrick Leahy (D-Vt.), ranking member of the Senate Appropriations Committee, said in a statement.
Rep. Adam Smith (D-Wash.), chair of the House Armed Services Committee, also expressed concerns with the weapons procurement dollars in the bill. Smith has previously noted his opposition to providing additional supplemental funding for the Pentagon in the next coronavirus relief bill (Defense Daily, June 30).
"While it is true that COVID-19 poses a real and credible threat to our national security, you don't have to be a doctor or a four-star general to understand that spending billions on new helicopters, combat vehicles, and fighter jets is not the solution to this complex problem," Smith said in a statement. "It is also true that COVID-19 has had a disproportionate impact on small manufacturers who play a crucial role in our industrial base. We need to implement smart policies that actually support these small manufacturers and maintains the stability of our supply chain – Leader McConnell's procurement wish list is not the solution."