The State Department has approved a potential $59.6 million deal with Kuwait for M1A2 Abrams tanks training ammunition.
The Defense Security Cooperation Agency notified Congress of the foreign military sale on Tuesday.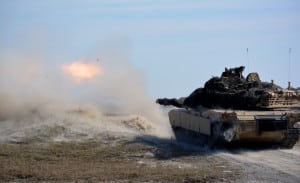 Under the deal, Kuwait would receive over 10,000 120mm M865 Target Practice Cone Stabilized Discarding Sabot Tracer cartridges and another 10,000 120mm M1002 Target Practice Multipurpose Tracer cartridges.
Kuwait has also requested 215,000 .50 caliber Tracer cartridges and 600,000 7.62mm M62 linked cartridges.
"The proposed sale will improve Kuwait's capability to meet current and future threats by enabling continued employment of the M1A2 Abrams main battle tank and supporting modernization of the country's tank fleet. The training ammunition will be used to qualify Kuwait's M1A2 tanks, which will enhance Kuwait's ability to protect border regions and key land-based infrastructure," DSCA officials wrote in a statement.
BAE Systems is the prime contractor for the proposed deal.