The Senate Appropriations Committee's proposed COVID-19 pandemic relief bill includes $2.2 billion for Navy shipbuilding, among other Navy items.
The shipbuilding funds would be available through September 2024 and would cover $1.45 billion for four "expeditionary medical ships", $260 million for one Austal USA-built EPF expeditionary fast transport ship, and $250 million for the surface combatant supplier base program.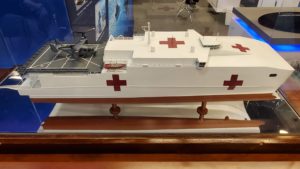 The bill specified these funds are "to prevent, prepare for, and respond to coronavirus, domestically or internationally."
This bill was first released on Monday. Committee Chair Richard Shelby (R-Ala.) said he believes the additional resources provided to the industrial base adds stability (Defense Daily, July 27).
Last year, the Navy's FY 2020 unfunded priorities list included $49 million to convert the 14th Spearhead-class Expeditionary Fast Transport (EPF) ship (EPF-14) into a an Expeditionary Medical Transport (EMT) vessel (Defense Daily, March 27, 2019).
At the time the Navy argued as an EMT it would provide ambulance-type services. EPFs can carry up to one fully loaded Abrams tank and has seating for up to 312 embarked forces.
Lawmakers also provide $1.068 billion for additional Boeing [BA] P-8A Poseidon maritime aircraft, with funds available through September 2022 and $41 million for the Naval Strike Missile (NSM) and launches under the Navy's Littoral Combat Systems Over-The-Horizon missile program.
Under the Navy's "Other Procurement account", the bill provides $41 million for additional unspecific sonobuoys.
Some of these procurement items are programs affected by the Trump administration's reprogramming of billions of dollars in FY '20 equipment budgets to funding for the administration's border wall project.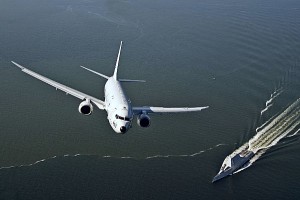 In February, the DoD's reprogramming request said it planned to take $180 million for one fewer than the nine appropriated P-8As and $261 million from an expeditionary fast transport ship (Defense Daily, Feb. 13).
Apart from procurement funds, the bill also includes a $4.7 billion "Defense Industrial base Resiliency Fund" for the Navy and Marine Corps available through September 2021.
The bill specifies the Secretary of the Navy is to use these funds "to prevent, prepare for, and respond to coronavirus, domestically or internationally, which shall be for expenses of modifications of the terms and conditions of contracts and agreements."
The Secretary can then transfer these funds for use in operations and maintenance, procurement, and research, development, test and evaluation.
However, the Navy Secretary, via the DoD Comptroller, must notify the congressional defense committees of the details of transfers for these uses.
Notably, these resiliency funds are barred from being transferred to Defense drug interdiction and counter-drug activities. This is likely an effort to prevent these funds from also being reprogrammed for the administration's border wall.
Separately, the bill provides $458 million in Navy operations and maintenance funds available through September 2021, a further $153 million in Navy operations and maintenance funds specifically for ship depot maintenance, $135.5 million for Marine Corps operations and maintenance through September 2021, and $20 million in research and development accounts to fund unfunded requirements in the Marine Corps' Force Design.
The Navy officially previously explained what they have been doing to help the industrial base deal with the response to the pandemic.
Assistant Secretary of the Navy for Research, Development and Acquisition James Geurts told reporters in the past several months the Navy has accelerated contracting awards over 30 percent faster than last year and has pushed $600 million into the shipbuilding industrial base by reducing withholds and retainers. All of the actions have been to help the industrial base deal with COVID-19 delays and disruptions (Defense Daily, April 29).
Geurts has said his aim is to provide steady work for industry so even if companies have to slow or pause production work at times earlier contract awards can maintain cash flow and stability.