The White House has requested Congress provide $37.7 billion in new supplemental funding to continue supporting Ukraine's fight against Russia's ongoing invasion, to include $21.7 billion for additional Pentagon-specific assistance efforts.
Shalanda Young, director of the Office of Management and Budget, sent a letter to Speaker of the House Nancy Pelosi (D-Calif.) detailing the request as Congress looks to complete the final fiscal year 2023 spending bills ahead of the Dec. 16 government funding deadline.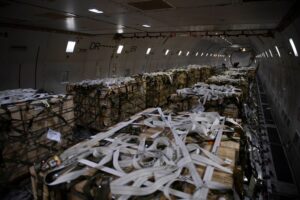 In her letter, Young notes that "roughly three-quarters" of the funds Congress has previously provided for Ukraine have been spent or committed, with more expected before the end of the year.
"Together, with strong, bipartisan support in the Congress, we have provided significant assistance that has been critical to Ukraine's success on the battlefield—and we cannot let that support run dry," Young writes. "That is why we are urging the Congress to provide additional appropriations to ensure Ukraine has the funding, weapons, and support it needs to defend itself, and that vulnerable people continue to receive lifesaving aid."
Congress to date has approved about $66 billion in military, economic and humanitarian aid for Ukraine, with the current continuing resolution to keep the government open through Dec. 16 including $12.3 billion in new Ukraine-related supplemental funding (Defense Daily, Sept. 30).
The $21.7 billion for Pentagon-specific efforts would cover "equipment for Ukraine, replenishment of Department of Defense stocks, and for continued military, intelligence and other defense support," according to the White House.
The White House notes the request includes $7 billion in additional presidential drawdown authority to provide weapons for Ukraine from existing Pentagon inventories.
Bill LaPlante, the Pentagon's top acquisition official, in September reiterated his goal remains to replenish inventories of equipment sent to Ukraine on a 'one-to-one' basis, either with current systems or next-generation updates (Defense Daily, Sept. 7).
The request also includes $14.5 billion for State Department and USAID efforts as well as $626 million for the Department of Energy for "nuclear security support to Ukraine and for modernizing the Strategic Petroleum Reserve to reduce domestic energy costs and ensure sustainable access to energy resources," according to the White House.
Deputy Pentagon Press Secretary Sabrina Singh told reporters last week the Pentagon believes there will be continued support from lawmakers for continued security aid to Ukraine regardless of how the final midterm election results shape control of Congress (Defense Daily, Nov. 10).
"I think there is, in Congress on both sides of the aisle, a commitment to Ukraine that we're in this for the long haul. So even with the midterms and the outcomes, I think Ukraine will still see security assistance and support from the United States in their fight," Singh said during a November 10 briefing.