The Navy awarded Vertex Aerospace a $70 million contract for base year Contractor Logistics and Maintenance Support (CLS) for the service's new TH-73A trainer helicopter, Naval Air Systems Command said Friday.
Earlier this year, the Navy awarded Leonardo's AgustaWestland a $176 million contract to begin producing and delivering 32 TH-73A Advanced Helicopter Training Systems (AHTS) to start replacing the aging fleet of TH-57 Sea Rangers by 2023 (Defense Daily, Jan. 13).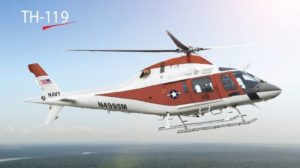 The Navy plans to eventually procure up to 130 new AHTSs which are used to train all Navy, Marine Corps and Coast Guard rotorcraft pilots.
After an initial protest by competitor Airbus was dismissed, Leonardo got the all-clear in May (Defense Daily, May 19).
The Navy said three proposals were submitted for the overall contract while the CLS task order was awarded on a "best-value tradeoff basis" with a base year and six options. If all options are exercised the total task order value will increase to $465 million.
The Navy said CLS availability is set to start in 2021 and last through 2027.
CLS procurement covers logistics, maintenance and supply for both the new TH-73A and existing TH-57 platforms.
This task order will specifically provide services and materials needed for aircraft maintenance and logistics aircraft support for both helicopters including repair of airframe and aircraft subsystems, including engines; maintenance/repair and logistics support of support equipment as required; and maintaining records and reporting for aircraft and associated systems.
"This contract ensures the Navy can successfully maintain the TH-57 helicopters until the TH-73A is operational in the fleet. Vertex will ensure the Navy has capacity to train several hundred aviation students per year at Naval Air Station Whiting Field in Milton, Florida.," Capt. Holly Shoger, Naval Undergraduate Flight Training Systems Program Office (PMA-273) program manager, said in a statement.