The Pentagon on Monday said the U.K.'s recent decision to allow Chinese firm Huawei to work on future 5G telecommunications is "problematic," citing potential security risk concerns.
"The United Kingdom is one of our key allies and partners. We're going to continue to work with them and find ways to work with them. We do believe that allowing Huawei, in any form, into their systems is problematic and we're hoping that they will continue to look at this and hopefully reach a better decision," Pentagon spokesman Jonathan Hoffman told reporters.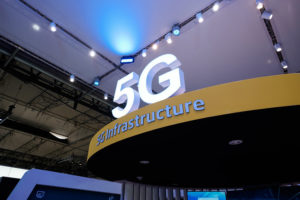 The U.K. said last week it would allow Huawei to provide capabilities that could be used to build its 5G network, with officials on Britain's National Security Council stating that any potential security issues could be managed.
"Allowing Huawei, a company that is potentially directed by the Chinese government, at times to provide information, to have access to all of your communications, your sensitive health care records, banking records is problematic," Hoffman said.
Lawmakers last week expressed similar concern with the U.K.'s decision, noting that Congress has moved to ban the federal government from purchasing tools from Huawei and other Chinese companies over fears that they could be used to compromise U.S. networks (Defense Daily, Jan. 31). 
Sen. Richard Burr (R-N.C.), chair of the Senate Select Committee on Intelligence, called the decision "deeply troubling" and Reps. Adam Smith (D-Wash.) and Mac Thornberry (R-Texas), leaders of the House Armed Services Committee, said the move "will inevitably complicate America's ability to share information with our closest ally."
The Pentagon recently detailed its own plans to start large-scale 5G experimentation at four installations across the country, with projects to include dynamic spectrum sharing, virtual reality support and smart warehouses (Defense Daily, Dec. 9).