The Arleigh Burke-class destroyer USS Fitzgerald (DDG-62) on Monday left its Pascagoula, Miss., shipyard for its first comprehensive at-sea tests after two years of repairs.
DDG-62 departed Huntington Ingalls Industries' [HII] Ingalls Shipbuilding yard in Pascagoula early Monday morning to conduct a set of demonstrations in the Gulf of Mexico. The test period will evaluate if the ship's onboard systems meet or exceed Navy specifications. It will specifically test the ship's navigation, damage control, mechanical and electric systems, combat systems, communications, and propulsion.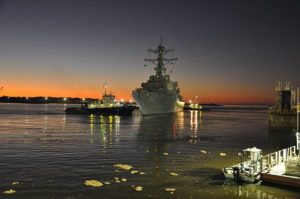 The Fitzgerald collided with a merchant ship in June 2017, leading to the death of 7 sailors (Defense Daily, June 18, 2017).
It was ultimately loaded on a heavy lift vessel for transport to Pascagoula for repairs and upgrades, including upgrades it was scheduled to receive during an FY 2019 availability. Repair work started in January 2018.
HII conducted repairs on the hull, mechanical and electric (HM&E) systems; combat systems; and command, control, communications, computers and intelligence (C5I) systems to return collision impact spaces to full functionality. This included partial or complete refurbishment of impacted spaces and replacing equipment like radar and the electronic warfare suite.
DDG-62 reached its previous repair milestone in April 2019 when it left the dry dock and moored pier-side at the shipyard (Defense Daily, April 17, 2019).
"Since we launched the ship this past April our efforts have focused on restoring ship systems, conducting pier side tests and readying the ship for sea," Rear Adm. Tom Anderson, NAVSEA director Surface Ship Maintenance and Modernization and commander, Navy Regional Maintenance Center, said in a statement.
"The government industry team has been working hand-in-hand on this exceptionally complex effort, with a common purpose of returning Fitzgerald to sea and ultimately back to the Fleet," he continued.
Once the ship returns to the shipyard, the Navy said crew training and certifications will begin as final work items are finished with the goal of the ship sailing away later this spring.
"We are excited to take the next step to get Fitzgerald back out to sea where the ship belongs. My crew is looking forward to moving onboard the ship and continuing our training to ensure we are ready to return to the fleet," Cmdr. Scott Wilbur, DDG-62's commanding officer, said.