The Navy awarded Swiftships LLC a $59 million modification exercising an option to build another five Landing Craft Utility (LCU) 1700-class vessels.
This award covers LCUs 1707 through 1711. Work will occur at the company's facility in Morgan City, La. and is expected to be finished by November 2023.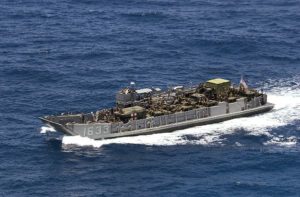 The Navy is buying LCS 1700-class boats to continue replacing the older set of 32 LCU 1610-class amphibious landing craft on a one-to-one basis.
Last year, the Navy announced a previous modification under this contract awarding Swiftships $50 million for four boats (Defense Daily, April 3, 2020).
At that time, the contract announcement said the LCU 1700s will recapitalize the 1610-class as a similarly rugged steel craft with a design life of 30 years. The Pentagon said the 1700-class boats are highly reliable and fuel efficient to complement capabilities of the faster air cushion landing craft which have a shorter range and smaller payload.
The LCU-1700s are designed to be 139-feet long, reach speeds of 11 knots, have a range of 1,200 nautical miles, and a crew of 13. It can carry up to two M1A1 tanks, 350 combat troops or 170 short tons of cargo. The boats have a roll on-roll off configuration with bow and stern ramps and are designed to be transported in the well decks of Navy amphibious warfare ships.