The outgoing top Republican on the House Armed Services Committee said Tuesday the looming runoff elections in Georgia to decide control of the Senate in the next Congress and the ongoing debate over base renaming directives could delay passage of the next defense policy bill.
Rep. Mac Thornberry (R-Texas), who is retiring from Congress, said the leaders of the congressional defense committees have begun informal talks before the start of the National Defense Authorization Act (NDAA) conference and have made progress on some of the major differences to be addressed.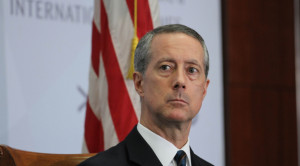 "We knew from the beginning that time would be short in a lame duck session, so we have been informally meeting to work on issues and differences between the two bills. Frankly, we've made a lot of progress," Thornberry told reporters prior to his remarks at a Heritage Foundation discussion. "I think there's a very good chance that we'll be able to, essentially, resolve all of the conference issues in a short amount of time,"
However, Thornberry said political considerations "above our pay grade" could push the NDAA conference beyond December and into the next Congress.
"I am concerned that there is at least the potential that political concerns, especially with the Georgia run-off [elections], are going to play a bigger role than what's good for the men and women of the military and all of the good in this bill," Thornberry said. "If we don't get the NDAA done before the end of December, and signed into law before the end of December, that all of those [current] provisions just die and a new Congress would have to start from scratch."
While the House and Senate have yet to officially kick off the NDAA conference effort, HASC chairman Adam Smith (D-Wash.) has previously said he believes a final bill could be ready for the floor by the first week in December.
The House and Senate passed their respective versions of the next NDAA over the summer, and must now settle key differences on areas such as the F-35 program, shipbuilding funds for the Virginia-class submarine program, and how to spend billions for a new Pacific Deterrence Initiative.
The issue that may hold up the NDAA process is the push to rename bases named after Confederate leaders, which has previously drawn a veto threat from the White House.
"Just to say what everybody knows, the incoming Biden administration is going to deal with the base naming issue anyway, so really what we're down to is whether it has to be in this bill and whether that would provoke a veto," Thornberry said.
Both versions of the bill contain base renaming provisions, while the House's version requires installations to be renamed within a year of the bill's passage and the Senate requires a change within three years.