The State Department approved a potential $23.11 billion Foreign Military Sale (FMS) with Japan for 105 F-35 Joint Strike Fighter aircraft and equipment.
The Defense Security Cooperation Agency (DSCA) notified Congress of the sale on Thursday.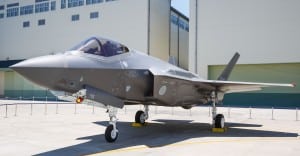 Japan's sale primarily requests 63 F-35A Conventional Take-Off and Landing variant aircraft, 42 F-35B Short Take-Off and Vertical Landing variants, and 110 Pratt and Whitney [RTX] F135 engines.
The main contractors for the sale will be F-35 prime contractor Lockheed Martin [LMT] and engine builder Pratt and Whitney.
DSCA said these new F-35s "will augment Japan's operational aircraft inventory and enhance its air-to-air and air-to-ground self-defense capability. The Japan Air Self-Defense Force's F-4 aircraft are being decommissioned as F-35s are added to the inventory."
The agency also argued it is vital to U.S. national interests to assist Japan in developing and maintaining a strong self-defense capability as a major ally and force for political stability in the Asia-Pacific region.
The sale also includes Electronic Warfare Systems; Command, Control, Communications, Computers and Intelligence/Communications, Navigation and Identification; Autonomic Logistics Global Support System, Autonomic Logistics Information System; Flight Mission Trainer; Weapons Employment Capability, and other Subsystems, Features, and Capabilities; F-35 unique infrared flares; and various other associated logistics and support services.
U.S. government and contractor representatives will be required to take multiple trips to Japan over 25 years to implement the sale for technical reviews and support, program management, and a training period.
DSCA said U.S. contractor representatives will be required to conduct Contractor Engineering Technical Services (CETS) and Autonomic Logistics and Global Support (ALGS) for after-aircraft delivery in Japan.
This sale comes after Japan's Ministry of Defense in December 2018 announced a decision to increase its F-35 procurement from 42 to 147 aircraft total. This sale represents the additional 105 aircraft to reach that number.
Japan is one of five F-35 customers operating via FMS, with the others Belgium, Israel, South Korea, and Poland.
Japan also hosts one of the three F-35 final assembly facilities in Nagoya at the Mitsubishi Heavy Industries  F-35 final assembly and checkout (FACO) plant.
Earlier this year, the State Department approved a $2.75 billion sale of 12 F-35Bs to Singapore (Defense Daily, Jan. 9).