Israel's Elbit Systems said Thursday it recently tested flying a mini-Unmanned Aerial System (UAS) from its Seagull Unmanned Surface Vessel (USV).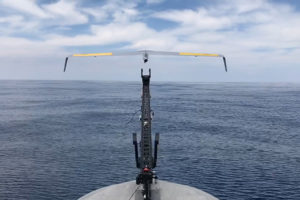 The company said the mini-UAS has a takeoff weight of up to 15 kg, or 33 pounds, and is capable of water recovery. The aircraft generate a visual feed that can be transmitted to the Seagull's land-based control unit and combat management systems of other vessels.
Elbit said the trials occurred in recent weeks, but did not elaborate. The mini-UAS appears to be an Elbit Skylark-C shipborne mini UAS, which the company website describes as designed for patrol boats and small vessel operations.
The Skylark-C has a take-off weight of 15 kg, endurance of up to five hours, service ceiling of 15,000 feet, and range of almost 25 miles. Elbit describes the aircraft as fully autonomous from launch to recovery, providing surveillance with an electro-optical/infra-red (EO/IR) payload.
The Seagull is an autonomous multi-role vessel with modular payloads capable of performing anti-submarine warfare (ASW), mine countermeasures, electronic warfare, maritime security, and hydrography mission from the same vessel, mission control system, and data links.
"The integration of a tactical UAS onboard the USV further expands its capacity to generate intelligence enabling to utilize the USV for enhancing the situational awareness of any maritime force and for shore exploration," the company said in a statement.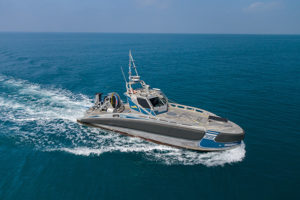 Last month, Elbit disclosed the Seagull concluded a set of ASW trials with the United Kingdom's Ministry of Defense last October (Defense Daily, June 8).
The company noted previously in April it integrated the Towed Reelable Active Passive Sonar (TRAPS)-USV towed sonar, "significantly enhancing its ASW capabilities" during sea trials, extending the range and flexibility of ASW operations.