The Army is soliciting industry's input on potential offerings for its Next Generation Future Truck (NGFT), with a focus on finding a heavy tactical wheeled vehicle platform that will leverage autonomy and new vehicle electrification technologies.
The NGFT would replace the Army's Palletized Load System A1 and Heavy Expanded Mobility Tactical Truck (HEMTT) A4s trucks, produced by Oshkosh Defense [OSK], and the M915 Tractors manufactured by Daimler Trucks North America.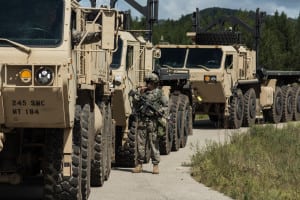 "The current fleet of heavy tactical wheeled vehicles, which includes the PLS, HEMTT, and M915 Tractor, are no longer aligned with current technology. The [Army] is seeking information from vehicle manufacturers able to provide a contemporary replacement for our aging fleet leveraging the advancements available within industry," Army officials wrote in a Request for Information notice released Thursday. 
NGFT is expected to provide improved fuel efficiency through "smart electronic strategies such as engine off at idle and electrification of hydraulic, cooling fans, and other subsystems" as well as encompassing a 'family of vehicles' approach to produce "different variants that utilize a common power plant, transmission, cab, and navigational systems reducing the need for complex supply chains."
"What separates the NGFT from previous programs is that it will be a purpose-built, multi-axle, ruggedized, fuel efficient wheeled vehicle with a dedicated payload area configured to mission requirements. The NGFT will also provide the commander flexibility to conduct both semi-autonomous and autonomous transportation operations," the Army wrote. "The purpose of modernizing the current fleet is to improve force protection, efficiency, and throughput."
Following in line with the Army's focus across its Next-Generation Combat Vehicle modernization effort, NGFT is expected to build in capacity for future autonomous capabilities.
"Integration of autonomy features will enhance force protection through iterative autonomy technology maturation, which will eventually allow for fully autonomous navigation. This capability reduces soldier vulnerability by providing an option to deliver supplies based on real time demand, independently and simultaneously, to multiple outposts via varied routes," the Army wrote.
NGFT is expected to operate in five configurations: a "wrecker" variant capable of recovering Strykers and Mine Resistant Ambush Protected vehicles, a Load Handling System-Heavy version with a crane, a tractor variant capable of handling payloads up to 40 tons, a tanker variant with an objective payload of up to 2,500 gallons and a cargo bed variant with a crane. 
Details of NGFT arrive as the House Armed Services Committee added an amendment to its FY '21 defense authorization bill seeking a briefing from the Army on its tactical wheeled vehicle strategy, including plans to truncate upgrades to shift funds toward modernization programs (Defense Daily, July 1). 
The Army's FY '21 budget request included just $7 million for its Family of Heavy Tactical Vehicles.
Responses to the NGFT RFI are due by Aug. 24.