The State Department has approved a potential $194 million deal with South Korea to provide upgrades for the country's F-16 Block 32 fleet.
The foreign military sale covers upgrading the F-16's with Mode 5 Identification Friend or Foe (IFF) packages and Link 16 Tactical Datalink (TDL) capabilities.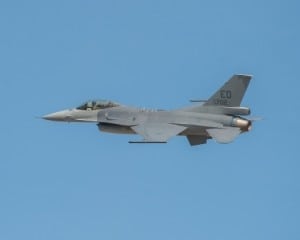 "The proposed sale will improve the Republic of Korea's capability to meet current and future threats by increasing its interoperability with U.S. Air Force and other coalition forces through an improved datalink and Mode 5 IFF, producing a more effective Alliance for its F-16 fleet," officials wrote in a statement.
Included in the deal are ARC-238 radios, AN/APX-126 Combined Interrogator Transponders, Joint Mission Planning (JMPS) upgrades and KY-58M secure voice modules.
Lockheed Martin [LMT] is the prime contractor for the deal.