U.S. Special Operations Command (SOCOM) will evaluate the five offerings for its Armed Overwatch aircraft program at a series of flight tests this summer at Eglin Air Force Base in Florida, a lead acquisition official said Monday.
The announcement arrives after SOCOM awarded $19.2 million in contracts to five firms on May 14 for prototype demonstrations, as the command aims to inform a potential production decision in fiscal year 2022.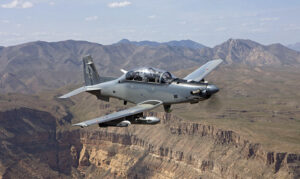 The five participants selected to participate in the Armed Overwatch evaluation are L3Harris Technologies' [LHX] AT-802U Sky Warden, Leidos' [LDOS] Bronco II, MAG Aerospace's MC-208 Guardian, Sierra Nevada Corp.'s MC-145B Wily Coyote and Textron's [TXT] AT-6E Wolverine.
"We have high confidence that each of these platforms can meet our requirements," Jim Smith, SOCOM's acquisition executive, told reporters on Monday evening. "The reason this demonstration is so important is it'll show…how real the capability is and how available we suspect it will be in the near-term."
Armed Overwatch is SOCOM's program to find a near-production ready small attack aircraft capable of providing commanders with armed reconnaissance, strike coordination and reconnaissance, and airborne forward air control.
The evaluation at Eglin AFB will run from June 14 to July 23 and is set to include each offering conducting five flight tests, according to Smith.
Smith said the platforms will be assessed for their ability to meet requirements for austere takeoff and landing, range and endurance parameters, weapons capabilities, communications capacity, cockpit configurations, full-motion video capabilities and autopilot tools.
"It's really important that we have maintained a very steady state requirement on this, it has not changed since March 2020 when we had our first industry day. To keep our industry partners going forward and keeping level set with all the stakeholders on this, we thought it was very important that we not change our requirements," Smith said.
In the long-term, Smith said SOCOM has an interest in exploring manned-unmanned teaming with Armed Overwatch as well as the ability to employ capabilities such as new Air Launched Effects.
"This whole idea of collaborative autonomy, sensors whether they're ground, aerial, maritime, etcetera, working together will absolutely be a part of our future. But, so I don't strike fear in the heart of our industry partners, that's a future requirement. Right now, we're focused on getting to a solution based on the requirements we presented back in March 2020," Smith said.