Sikorsky [LMT] and Boeing [BA] on Tuesday detailed a recent full mission profile flight test with its technology demonstrator for the Army's Future Long Range Assault Aircraft (FLRAA) program, to include conducting low-level flight and confined-area landings.
The Jan. 5 demonstration with Sikorsky-Boeing's SB>1 Defiant platform, informing the companies' Defiant X coaxial rigid rotor helicopter offering for FLRAA, also included reaching a speed of 236 knots and conducting 60-degree banked turns.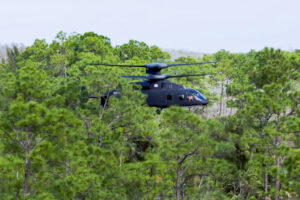 "We fully demonstrated DEFIANT's ability to execute the FLRAA mission profile by flying 236 knots in level flight, then reducing thrust on the propulsor to rapidly decelerate as we approached the confined, and unimproved, landing zone," Bill Fell, Sikorsky's chief flight test pilot for the Defiant program, said in a statement. "This type of level body deceleration allowed us to maintain situational awareness and view the landing zone throughout the approach and landing without the typical nose-up helicopter deceleration. This confined area was extremely tight, requiring us to delay descent until nearly over the landing spot, followed by a near-vertical drop. We landed DEFIANT precisely on the objective with little effort as we descended into this narrow hole while maintaining clearance on all sides."
The Sikorsky-Boeing team and Bell [TXT], offering its V-280 Valor tiltrotor aircraft, are the two competitors for the Army's FLRAA program to find a replacement for its Black Hawk helicopters.
This past fall, the two competitors submitted their official proposals for the FLRAA program of record after each had participated in the Joint Multi-Role Technology Demonstrator program to inform requirements and then were selected for the FLRAA Competitive Demo and Risk Reduction prototype maturation phase.
A production contract for FLRAA is set to be awarded in late fiscal year 2022.
A year ago, Sikorsky and Boeing detailed their Defiant X offering which they said builds on the experience flying SB>1 Defiant for several years and includes enhancements to the design "to reduce thermal signature and improve aerodynamic handling" and "fly-by-wire flight controls integrated with autonomy capability" (Defense Daily, Jan. 25 2021).
"It's what we call building combat power rapidly, and aircraft like the Defiant X can do that," Boeing's Vice President of Army Systems Tony Crutchfield said in a statement on Tuesday. "In the Pacific, it's even more important because your lines of operation are going to be dispersed over a wide area; you're going to have these small bases and supply lines that'll be positioned either on ships or on islands. You're going to want to move more assets, maneuver in confined terrain and survive to build that combat power faster than your adversary can – so you can win."
Sikorsky and Boeing also noted SB>1 Defiant exceeded 245 knots in level flight during a demonstration this past September and showcased "mission-relevant cargo capacity" during a demonstration where the platform lifted 5,300-pound Guided Multiple Launch Rocket System external load.
Bell announced last June it was retiring its V-280 technology demonstrator from active flight testing, after reaching 214 flight hours and a max speed of 305 knots, as it readies for the FLRAA program of record (Defense Daily, June 24).
With the platform no longer flying, the V-280 will be used as a testbed to gather additional data on the ground to further assist its proposal for FLRAA, Bell said.