The chair of the Senate Armed Services Committee said the panel will have to "look harder" at more legacy weapon system cuts facing likely flat budgets in the coming years, while dismissing the likelihood for an across the board 10 percent reduction in defense spending proposed by progressive lawmakers.
"My guess, though, and it's no surprise, is we won't be looking at the same percentage increases as we saw in the last few years," Sen. Jack Reed (D-R.I.) told reporters Wednesday. "We're going to deal with a much tighter budget going forward, more flat than rising. But within that, I think we have to make judicious calls about what is worthwhile."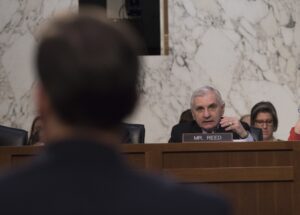 Reed said he believes the significant spending on COVID-related measures will place increased pressure on the upcoming budget process, including a greater emphasis on finding savings across the services to fund ongoing modernization efforts. 
"There are legacy systems which all of the services have asked us to eliminate and there's certain reluctance because they're stationed in our home states or they have an impact. If there's a tighter budget, we have to look harder and that's one of the realities. It will begin, I hope, by the president and the secretary of defense sending over a budget that really looks at cost savings we can achieve," Reed said. 
Lawmakers have previously pushed back on proposed cuts to programs such as the Army's CH-47 Block II Chinook, which the service has identified as an opportunity to shift funds toward modernization (Defense Daily, Dec. 4). 
Reed also called ongoing efforts from progressive lawmakers to cut defense spending by 10 percent "a policy pronouncement more than they are good policy."
"I think there will be individuals on the right who will urge for significant increases, that there's never enough. And the others on the left would say we just have to cut it dramatically and they can figure out what to do with what's left. I don't think that's going to be the prevailing sentiment. The majority are going to recognize we have to continue our investment in national security and defense," Reed said. 
During last year's National Defense Authorization Act mark-up process, lawmakers voted down an amendment from Sen. Bernie Sanders (I-Vt.) to reduce the Pentagon's budget and redirect the funds toward community programs (Defense Daily, July 23 2020). 
Reed also affirmed his commitment to maintaining nuclear modernization efforts, while noting SASC will focus on measures to minimize costs to ensure the full slate of programs can be pursued efficiently.
"The question, of course, is something we have to explore for every system. The B-21 is being built. That aircraft is expensive, but we want to make sure that it stays within the cost parameters. The focus is not only on the price of the platform but the sustainment is critical too. We're beginning to move with respect to the land systems and the Columbia[-class submarine] is under construction right now. And we're pushing both the Navy and the contractor to come in on budget and on time," Reed said.